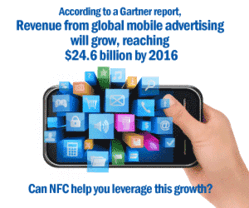 According to a recent Gartner report, revenue from global mobile advertising is anticipated to reach $24.6 billion by 2016. NFC is key to integrating mobile advertising into overall marketing campaigns.
Dallas, Texas (PRWEB) March 13, 2013
For Immediate Release — OTA Training, the creator of the most comprehensive series of globally delivered NFC education and hands on training today announced that registration is open for its NFC Bootcamp™ Toronto event. OTA, along with local and international NFC experts present the first globally standardized near field communication (NFC) training program designed to educate attendees on how they can harness NFC technology to drive brand awareness, enhance customer experience, and facilitate adoption of solutions available through NFC-enabled devices.
The Toronto NFC Bootcamp™ is scheduled for April 3rd and 4th and hosted by RFID Canada, Markham-based suppliers of RFID and NFC Inlays, Labels and Tags and Low Frequency (LF), High Frequency (HF) and Ultra High Frequency (UHF) RFID and NFC Readers. The NFC Bootcamp™ will be held at the Marriott Toronto Downtown Eaton Centre Hotel at 525 Bay Street, Toronto, Ontario.
The NFC Bootcamp™ focuses on high quality knowledge transfer from NFC experts about what NFC is, how it is being deployed, what are the use cases and business models and how you can take advantage of the technology in your business. Attendees learn more about how NFC is being used in real-world scenarios — presented by the people actually creating and implementing solutions. They will also learn about key players in the NFC ecosystem and best practices from experts in the industry. In addition, this training program includes hands-on demos and training on how to build an NFC campaign. A special feature of the NFC Bootcamp is the NFC Showcase where companies working in the NFC field show how this next-generation technology works.
Speakers currently on the program include:

Robert P. Sabella, CEO and founder of OTA Training which produces the NFC Bootcamp training series
Bob Moroz, founder and president of RFID Canada
Jim Ellis, SVP, North America for ABnote North America
Mikhail Damiani, CEO and co-founder of Blue Bite
Tony Vassiliev, CEO and co-founder of Gauge Mobile
As well as guest speakers throughout the event
According to Sabella, "According to a recent Gartner report, revenue from global mobile advertising is anticipated to reach $24.6 billion by 2016. 'Mobile advertising should be integrated into advertisers' overall marketing campaigns in order to target their audience in very specific ways through their smartphones and/or tablets.' Near field communication is a key technology in making this happen and is changing how consumers engage with various businesses. With the ever-growing availability of NFC-enabled devices — whether smartphones, tablets or other devices like wristbands, customers are demanding simplified, customized and personalized experiences while they are on the go. There is no better place to come and understand the impact this technology is going to have on the way companies do business than at an NFC Bootcamp event." Sabella further elaborated, "We are excited about the growth of NFC technology in the marketplace, and the potential uses to solve common challenges in consumers' everyday lives and activities. Our programs are poised to drive awareness of the capabilities of NFC and adoption of solutions including mobile marketing, mobile wallet, loyalty programs, social media and digital out-of-home experiences and so much more."
For more information on upcoming NFC Bootcamps or to register for the Toronto event, visit http://www.nfcbootcamp.com/event-registration.
Companies and organizations interested in sponsoring or speaking at an NFC Bootcamp or participating in the NFC Showcase should visit http://www.nfcbootcamp.com/contact/ to request sponsorship information. NFC practitioners and professionals wishing to speak or share use cases can visit NFC Bootcamp Speaking Opportunities to request information on speaking opportunities.
— ABOUT —
About OTA Training, Inc. (http://www.nfcbootcamp.com) – Based in Dallas, Texas, OTA Training is the creator and producer of the NFC Bootcamp™ training series – Learn How to Market with NFC: Creating Effective Marketing Strategies Using Near Field Communication and How to Develop an NFC Application™. The NFC Bootcamp is the first internationally standardized training program of its kind and brings together the most knowledgeable and respected leaders in the NFC industry to share their expertise and insights. It also features the NFC Showcase™ which highlights real-world, hands-on demos of NFC technology at work from the key companies in the NFC Ecosystem. Cities that have hosted an NFC Bootcamp include London, New York, San Francisco, Sydney, Chicago, Seattle, Dallas, Atlanta and Johannesburg with more cities being added soon. For more information and to register for any of the NFC Bootcamps please go to: http://www.nfcbootcamp.com and if on Twitter use #nfcbootcamp.