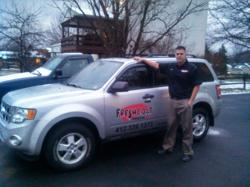 Cranberry Township, PA (PRWEB) March 13, 2013
After nine years of working in the trade, Pat Boyle certainly knows the fine points of the painting industry. As owner of a newly-opened Fresh Coat franchise, the Cranberry Township resident can put his expertise – and knowledge of virtually every conceivable finish, formula and hue – to good use.
"Before looking at Fresh Coat, I worked for Sherwin-Williams for nine years, initially managing three different locations. My last position was working as an outside sales representative," Boyle recalled. "Knowing the products certainly helps in terms of being prepared."
"I always wanted to have my own business, be my own boss," he said. "I went with Fresh Coat because of their emphasis on customer service, that's really what attracted me to the company." Boyle began researching business and franchise options early last year, and when he came across the Fresh Coat name and accompanying business model he knew he had found a like-minded company, one that matched his skill sets and desire for quality.
With Fresh Coat, owners have a range of corporate offerings that support their clients and make the process smoother, including a 24/7 call center, a proprietary quoting system, twelve month same-as-cash financing, an automatic Touch-Up Service for businesses, and fund-raising opportunities for charities.
"Our owners understand that running a painting business isn't about painting," said Bernard Brozek, president of Fresh Coat. "It's about the client's entire experience from that first call to the job completion and beyond. It's about building a long-term relationship."
During his time in the industry, Boyle too often saw just how difficult it was to find a reliable paint contractor. Some never returned customers' calls while others performed shoddy work. Fresh Coat owners hire their own personnel, and never use sub-contractors, he noted. As a result, they can more effectively guide the operation and provide more support to the painters. Boyle further mentioned that all Fresh Coat's painters undergo drug testing and background checks, and are fully licensed and bonded. His research showed that the need for dependable, skilled painting professionals was there, and he was ready to tap into it. Boyle utilized ads on Craigslist and word-of-mouth to track down and interview professional painters.
"I talked to many painters before I found the right ones," he said, noting he has already hired two painters and hopes to add more as the year progresses. Boyle actually enjoys painting and has completed several of his own painting projects; still he values the structure of the company, which allows him to concentrate on the business while experienced painters complete the work.
Brozek said the company's research has found that the business model satisfies both owners and their employees.
"Painting is an industry with a negative reputation – late arrivals, no shows, messy clean-up, sloppy work – so those painters who are professional appreciate the opportunity to work for a company that provides pay, benefits and steady work," Brozek said.
For this new father of a baby boy, it's also essential to be a good corporate citizen. As long-time Township residents, Boyle and his wife, Leah, look forward to putting down roots as a family and serving the community as business owners.
"At the end of each job, it's very gratifying to see the homeowners' reaction to our results. Seeing the customer happy is a reward for sure," he noted.
To learn more about Fresh Coat Painters of Cranberry Township or to schedule an on-site quote for residential or commercial projects in Wexford, Sewickley, Gibsonia, Fox Chapel, Allison Park, Beaver, Pittsburgh, Mars, North Hills or their surrounding Pennsylvania communities, call 412-339-1373 or visit Fresh Coat Cranberry Twp.