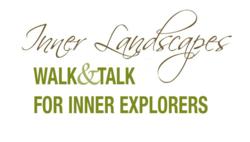 Our unique format helps people discover inner resources for coping with change and transition.
Seaford, East Sussex (PRWEB UK) 22 March 2013
Inner Landscapes is now offering workshops and retreats to help people cope with the challenge of unexpected events in their lives. It is an inevitable part of life that people must face change and uncertainty, and this often brings with it uncomfortable or even painful reactions as they adjust to their new situation. This psychological adjustment – known as transition and lasting from weeks to years – can take people by surprise as they struggle to 'move on' with their lives.
To help people tackle change in a more purposeful way, Inner Landscapes combines workshop activities, designed to enhance emotional resilience, with 'green' exercise, to provide participants with ways of engaging more confidently with their lives.
Changes at work are an obvious cause of difficulty and suffering. Whether it is due to job restructuring or redundancy, unwanted change is is a source of stress, lowered morale, lost productivity, demotivation and worse.
Change in personal circumstances can be just as tough. Events like relationship breakup, family illness, bereavement and even a longed-for retirement bring a range of emotional responses that people find difficult to manage as they are expected to 'carry on as normal' in the face of their new circumstances.
Its not only 'negative' change that can have this effect; a new job or promotion, marriage, childbirth, a new business venture... Even longed for and planned events can take their toll as the person adjusts to their new situation, as Alejandra, a newly qualified doctor, found out:
"I had just started my third year of medical school and was finally seeing patients. This was the moment I'd been waiting for since I was a little girl – patient contact. And here I was, miserable, sick, barely functional, and very scared."
Though some people seek the help through their doctor or therapist in dealing with the emotional impact of change, many more do nothing, and simply struggle on. Yet there is a lot individuals can do for themselves, without the help of a health professional. For example, in Green Care: A Conceptual Framework (a report by the Working Group on the Health Benefits of Green Care), the authors point out how people are helped by being in natural green spaces, and that "In addition to this solace, contact with nature has positive effects on well-being, with physical, psychological and spiritual benefits."
Dealing with the turbulence of transition need not be difficult. Understanding the change takes its toll is a good first step, and time for oneself helps with acceptance and adjustment. This is when many people automatically turn to green spaces. Contact with nature is part of our species' evolutionary past and a reflective remedy for the stress of change. When people arrive at one of those 'cross-roads' moments in life it helps to step back, pause and reflect. Where better to do that than in surroundings where the cycle of the seasons and natural change acts as a metaphor for human growth and development?
Inner Landscapes runs mini-retreats specifically designed to help people through transition using the inspiration of nature and the power of the group. As founder Barry Winbolt explains, "Bringing people together in an inspirational setting in time of personal uncertainty helps shift from confusion to exploration. We use simple exercises that frame the change as a natural phase which brings with it opportunity for growth. People quickly come to understand this, they tell us that our unique format helps them discover inner resources for coping with change and transition."
About Inner Landscapes
East Sussex based Inner Landscapes was founded in 2012 by Barry Winbolt, to provide retreats and workshops to enable people to find greater satisfaction and fulfillment in their lives. The organisation uses reflective personal development techniques, that include walking in the natural environment, combined with carefully structured workshops and exercises held indoors, in locations chosen for their inspirational qualities.