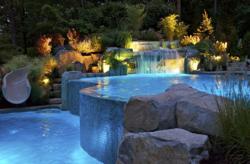 ...YOU CAN FINALLY DEAL WITH A SINGLE FIRM THAT HANDLES EVERYTHING...
Mahwah, NJ (PRWEB) March 15, 2013
Cipriano Landscape Design, an exclusive, award-winning landscape/swimming pool design and construction company of Mahwah, NJ, is announcing the expansion of their luxury estate management services. The expansion marks a groundbreaking development in the property management industry by providing all outdoor maintenance services under one roof. Commercial and residential properties can enjoy the advantages of Cipriano's variety of services, entrusting their swimming pool, landscape, lawn care, and irrigation servicing to a single, qualified firm.
Along with other credentials for landscape architecture and pool construction, Cipriano Landscape Design is a Certified Pool Operator and Certified Service Professional with the Association of Pool and Spa Professionals. This means that the pool and landscape company is licensed to operate and service commercial and residential swimming pools. Cipriano possesses the licenses and experience to chemically treat pool water, clean the inside of the pool, or even perform pool renovations if necessary. As a Certified Building Professional (CBP) with the APSP, they also have the ability to properly diagnose potentially serious issues that arise with existing pool structures.
For NJ landscaping services, the landscape maintenance company is a licensed pesticide applicator and irrigation contractor, as well as a licensed NJ home improvement contractor. Cipriano offers lawn and garden maintenance services, irrigation services, and lawn care services. The all-inclusive company goes above and beyond the typical NJ landscaper. The company can design, install, open, close, and repair any irrigation systems. They can selectively prune shrubs and ornamental trees, and plant beautiful gardens from week to week, season to season. Lastly, the services include lawn maintenance, including everything from pesticide application to weekly lawn mowing.
"We don't believe homeowners should have to deal with three or four companies just to maintain their property. Instead of hiring a pool service guy, a mow-and-blow landscaper, and an irrigation or lawn care company, you can finally deal with a single firm that handles everything," said Chris Cipriano, President of Cipriano Landscape Design. The impressive combination of pool and landscape maintenance credentials is expected to provide many homeowners with a new industry standard for estate management. The variety of services should offer homeowners significant convenience in terms of communication, scheduling, comfort, and overall satisfaction. Cipriano joked, "At the very least, your neighbors can thank you for not clogging the street with so many maintenance trucks anymore."
About Cipriano Landscape Design:
Celebrating over 24 years in business, 12-time international award winner Cipriano Landscape Design distinguishes themselves from all other swimming pool & landscaping companies with their extensive experience. The Mahwah, NJ company provides more than just a pool installation. As a recognized national leader in custom residential & commercial landscaping, masonry, swimming pools and water features, the NJ firm has been offering complete estate transformations since 2001. With a design office headed by 15-year-veteran, Certified Landscape Architect William Moore, the Cipriano team has won 65 awards of excellence since 2006 including the Northeast Pool & Spa Association's 2007 Best in Competition Award. Cipriano is also a Certified Building Professional (CBP) by the Association of Pool & Spa Professional (APSP) since 2008, one of only five custom pool builders in Bergen County to have earned the certification. Cipriano Landscape Design is the one company for everything in luxury outdoors.
To learn more about Cipriano's services, visit the following pages:
Landscape Design NJ
Pool Designs NJ
Inground Pools NJ