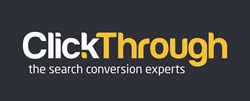 We've driven a 54% rise in return on investment with product listing ads compared to traditional Google ads – which should make Google Shopping a very attractive option for businesses.
(PRWEB UK) 13 March 2013
Product listing ads in UK Google Shopping searches boosted advertising ROI by 54% in their first month, according to digital agency ClickThrough Marketing.
ClickThrough has optimised Google product feeds for several high-profile businesses since UK Shopping searches started moving to a commercial model on February 13.
Its PPC experts found product listing ads cut click costs by 28% compared to traditional AdWords ads, as well as boosting return on investment.
Now the company is encouraging retailers to set up Google Merchant Centre accounts and product listing ads to qualify for a 10% discount from Google before the end of March.
With an average client budget of £10,000 per month, ClickThrough says product listing ads have so far beaten traditional text-based AdWords adverts in all the most important PPC metrics.
On average, across several accounts, ClickThrough found product listing ads in Google Shopping have:

Boosted return on investment (ROI) by 54% compared to traditional Google advertising
Reduced CPCs by 28% compared to standard AdWords ads
Accounted for 25% of paid search traffic
ClickThrough has now launched a suite of PPC management services designed to help online retailers make the most of their Google Merchant account, including a Google Shopping Audit, Google Merchant Centre set-up service, and pay per click management for product listing ads.
The 26-point audit was devised by ClickThrough's team of Google AdWords-qualified PPC experts to provide in-depth analysis of a retailer's position.
The audit calculates the potential loss of traffic and revenue if a retailer fails to set up product listing ads, sets recommended budgets for Google Merchant Centre, researches Shopping search trends to help plan 12-month activity budgets, and reviews existing Google Shopping activity for best-practice structure and setup.
ClickThrough's AdWords experts can also help set up a Google Merchant Centre account, create product listing ads and product descriptions, and manage Google product feeds.
The Google Shopping setup service includes restructuring existing campaigns to improve budget control, targeting and ad messaging, and implementing tracking codes to help report on results. ClickThrough's qualified PPC staff are also available to provide on-going technical support for retailers.
On top of that, ClickThrough is offering PPC management services for Google Merchant Centre. This involves: weekly account optimisation and bid adjustments to maximise ROI; budget management; product feed reviews; monitoring traffic quality, products and prices; promotional text adjustments; search query reports; negative keyword expansion, and on-going technical support and expert advice.
The company has already created a free white paper on the Google Shopping changes to provide retailers with all they need to know about product listing ads.
"Our stats show product listing ads in Google Shopping are working for UK online retailers," explained Amy Bott, head of paid search at ClickThrough.
"We've managed several large Google Merchant Centre accounts, and are already seeing huge benefits over traditional AdWords advertising. For example, we've driven a 54% rise in return on investment with product listing ads compared to traditional Google ads – which should make Google Shopping a very attractive option for businesses.
"Our AdWords-qualified PPC experts have been planning for this change for some time: we've immersed ourselves in Google Merchant Centre accounts, spent hours analysing product descriptions and Google Shopping feeds, and have already found great ways to improve returns, decrease costs and boost quality traffic."
By June, all Google Shopping results will be product listing ads: and retailers will have to pay Google when their PLAs get clicked. From now until then, Shopping results will include a mix of paid-for and free product listing ads as Google phases in the changes.
To download ClickThrough's free white paper on Google Shopping and product listing ads, visit http://www.clickthrough-marketing.com/resources/reports-downloads/
For more information on ClickThrough Marketing's Google Merchant services, product listing ads, and ways to benefit from Google Shopping PPC management, visit http://www.clickthrough-marketing.com.
ENDS
Notes to editors: For more information, please contact: Ali Harris, head of content at ClickThrough Marketing. Call +44 (0)1543 410 014 or email aharris(at)clickthrough-marketing(dot)com
About ClickThrough Marketing:
From SEO to PPC, content to web design, ClickThrough Marketing (http://www.clickthrough-marketing.com) is a fully-integrated digital agency, specialising in conversion optimisation and Internet marketing. For the past ten years, the company has worked with clients in the UK, USA and Europe to help them reach new customers using ethical search marketing know-how, and our own unique technology, such as BidCops, the free AdWords reporting tool. ClickThrough is committed to providing honest, actionable Internet marketing advice, with results-driven services for SEO, PPC and online PR. ClickThrough's Internet marketing experts include a double award-winning senior journalist, one of the UK's most respected linkbuilders, and Dr Dave Chaffey, one of the Chartered Institute of Marketing's top 50 people worldwide to shape the future of marketing. Call +44(0)808 231 1970 for more information on how ClickThrough's experts can help with SEO, PPC, site content and web development.