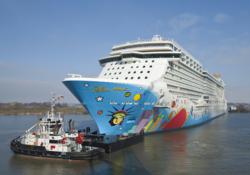 Papenburg, Germany (PRWEB) March 13, 2013
Norwegian Breakaway, the largest cruise ship to ever be built in Germany, departed MEYER WERFT in Papenburg, for her approximately 24-hour long conveyance along the Ems River. The river conveyance demonstrates Norwegian Breakaway's seaworthiness and marks another key milestone prior to the ship's highly anticipated delivery.
Sailing backwards, Norwegian Breakaway left MEYER WERFT at approximately 10 a.m. (local time in Germany), and made a narrow passage through the ship yard's locks, with only 1.6 meters clearance separating the ship from the "bumpers" that were specially installed along the starboard side of the locks. This very tedious maneuver took approximately 1.5 hours at a maximum speed of only 0.2 knots. The precise navigation was led by a team of two located on the bridge, with one navigation officer in charge of overseeing the bow maneuvers and the other overseeing the movement of the stern. It was extremely important that not too much force was placed on the bumpers, which can only support a light touch by the ship, which measures 1063 feet long and 130 feet wide; therefore, minimum speed and minimum pressure on the bumpers was essential. After passing through the locks, Norwegian Breakaway continued along the river, stern first. Due to the strong propulsion in the aft section of the vessel, traveling stern first helps with maneuverability which is a key component when navigating the vessel through such narrow passages.
In preparation for the ship's conveyance, the Nautical Operations teams from both MEYER WERFT and Norwegian trained and practiced the precise maneuvers for the past several months, utilizing high tech simulators and detailed schematics. Norwegian Breakaway is the largest cruise ship to ever be built in Germany and presented the most challenging conveyance ever, as the ship required precise maneuvers in order to navigate through extremely narrow passages, with less than two meters clearance on either side of the vessel.
Before reaching her final destination in Eemshaven, Germany early Thursday morning, heading toward the North Sea, Norwegian Breakaway will pass through additional narrow passages including the locks in Papenburg, which allow only 1.5 meter clearance on either side; Weener Bridge in Weener; Jann-Berghaus Bridge in Leer; and Ems-Barrier in Gandersum.
Norwegian Breakaway
Designed as New York's ship, Norwegian Breakaway will bring the best of NYC to sea when she arrives to her year-round homeport in early May 2013, offering the high-caliber dining and entertainment options that New York is known for worldwide. To date, the company has revealed the ship's groundbreaking design, including an open-air boardwalk, The Waterfront, and 678 Ocean Place; a wide range of indoor and outdoor venues on three dynamic decks that will create a whole new complex at sea that enhances guests' connection with the ocean. Norwegian Breakaway's entertainment will include three Broadway shows: five-time Tony nominated ROCK OF AGES; the dance sensation BURN THE FLOOR; and CIRQUE DREAMS & DINNER JUNGLE FANTASY. The famed comedy troupe The Second City, Howl at the Moon dueling pianos, and New York's own Slam Allen will perform on the vessel. Norwegian Breakaway will also feature an exciting fireworks show on every cruise that will dazzle guests on the second to last night at sea each week, and will be the grand finale of a decadent 1980s-themed deck party.
Celebrity Chef and Food Network star Geoffrey Zakarian will also debut his first restaurant at sea on Norwegian Breakaway: Ocean Blue by Geoffrey Zakarian. Buddy Valastro, star of the TLC series "Cake Boss," will open an extension of his popular bakery, Carlo's Bake Shop. The ship will feature a total of 28 dining options on board and an Ice Bar, which will be kept at 17 degrees Fahrenheit and feature New York City-inspired specialty cocktails, as well as ice sculptures of the Brooklyn Bridge, Statue of Liberty and the Chrysler Building to pay homage to New York City.
The top decks of Norwegian Breakaway will feature the first Aqua Park at sea with five full-size water slides, including twin Free Fall slides, the first ever at sea, and a three-story sports complex that includes the largest ropes course at sea, a nine-hole miniature golf course, basketball court, rock climbing wall and more.
The ship will also feature a rich mix of stateroom options including The Haven by Norwegian, comprised of 42 Suites at the top of the ship and 18 additional Suites located throughout the ship; the innovative Studios, designed and priced for solo travelers; Oceanview staterooms, Balcony and Mini-Suites; along with Spa Balcony, Mini-Suites and Suites in close proximity to the spa.
For more information on the incredible features and accommodations on Norwegian Breakaway, visit http://www.breakaway.ncl.com. To book a cruise on Norwegian Breakaway, contact a travel professional, call Norwegian at 800-327-7030 or visit http://www.ncl.com. Comment on today's announcement on our Facebook page.
About Norwegian Cruise Line
Norwegian Cruise Line is the innovator in cruise travel with a 46-year history of breaking the boundaries of traditional cruising, most notably with the introduction of Freestyle Cruising which revolutionized the industry by giving guests more freedom and flexibility. Today, Norwegian invites guests to "Cruise Like a Norwegian" on one of 11 purpose-built Freestyle Cruising ships, providing guests the opportunity to enjoy a relaxed cruise vacation on some of the newest and most contemporary ships at sea. Recently, the line was named "Europe's Leading Cruise Line" by the World Travel Awards for the fifth consecutive year.
Norwegian Cruise Line's largest and most innovative Freestyle Cruising ship, Norwegian Epic, debuted in June 2010 and has been named "Best Overall Cruise Ship" by the readers of Travel Weekly two years in a row and "Best Ship for Sea Days" by Cruise Critic. Norwegian Cruise Line is the official cruise line of Blue Man Group, appearing for the first time at sea on Norwegian Epic, as well as the official cruise line of Legends in Concert, The Second City®, Howl at the Moon Dueling Pianos, and Nickelodeon, the number-one entertainment brand for kids. Cirque Dreams™ & Dinner is also featured on board Norwegian Epic as the first show of its kind at sea under a big top.
The Company has two 4,000-passenger vessels, Norwegian Breakaway and Norwegian Getaway, under construction for delivery in April 2013 and January 2014, along with one larger "Breakaway Plus" vessel for delivery in fall 2015. Known as New York's ship, Norwegian Breakaway will be the largest vessel to homeport year-round in the city, sailing to Bermuda for the summer beginning May 12, 2013. Norwegian Breakaway's features include hull art by legendary artist Peter Max, seafood restaurant Ocean Blue by famed New York Iron Chef Geoffrey Zakarian, bakery by Buddy Valastro, star of the TLC series "Cake Boss," and fitness classes and a retrospective display from the ship's iconic godmothers, the Rockettes®. The entertainment lineup includes three Broadway shows: Rock of Ages, Burn the Floor and Cirque Dreams™ & Dinner: Jungle Fantasy. Sister ship Norwegian Getaway, the largest ship to homeport year-round in Miami, will sail Eastern Caribbean voyages beginning in February 2014. Sailings for both vessels are now on sale.
High resolution, downloadable images are available at http://www.ncl.com/pressroom. For further information on Norwegian Cruise Line, visit http://www.ncl.com, follow us on Facebook, Twitter, and Instagram @Norwegiancruiseline, Pin us on Pinterest, watch us on YouTube, or contact us in the U.S. and Canada at 888-NCL-CRUISE (625-2784).
# # #