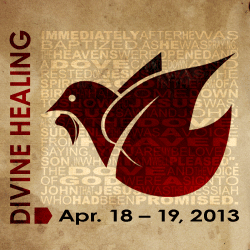 Dayton, OH (PRWEB) March 16, 2013
Register now for United Theological Seminary's third annual church renewal conference, Light the Fire! 2013.
The Dayton, Ohio, seminary's event will be April 18 and 19 at Ginghamsburg Church in Tipp City, OH.
This year's theme is DIVINE HEALING and features a dynamic group of speakers including William J. Abraham, Candy Gunther Brown, Bishop Kenneth H. Carter, Randy Clark, Virginia Todd Holeman, Emma Justes, Craig S. Keener, Felicia LaBoy, Mike Slaughter, Bishop James E. Swanson Sr. and Terry Teykl.
The conference will focus on:

Divine healing in global Pentecostal and Charismatic Christianity
Healing for physical, emotional and social ailments and disease
The role of intercessory prayer and divine healing in Scripture
The theological and spiritual challenges that emerge when the healing that we seek doesn't come
Each day will conclude with a special worship service for divine healing! Learn how to be a source of healing in the lives of people, in the church, in the local community and throughout the world. For more information and to register, please click here.
United Theological Seminary, now in its 142nd year, is one of the fastest growing theological schools in the United States. It was founded in 1871 by Milton Wright, a Bishop in The United Brethren Church and father of Wilbur Orville and Katherine Wright. United offers accredited, innovative graduate and non-degree education programs for both clergy and laity. See http://www.united.edu for more information.