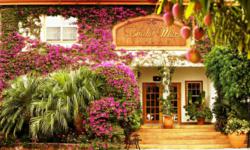 Beauty can be Witty - Especially in Belize!
Placencia, Belize (PRWEB) March 26, 2013
Natalie, the Guest Services Manager at this Placencia, Belize Resort explains. "We were so pleased to have Lillie and Colin, the "Fishonista", as Lillie refers to him in her blog, celebrate their Belize Honeymoon at Chabil Mar. Well, Lillie got to reading all about the resort in our guest services packet and she became enthralled with the funny comments made throughout it. In her words, 'Listen: Chabil Mar is gorgeous and its staff is fantastic, but what made me roll on the floor laughing was that it has the funniest welcome packet of any hotel I have encountered in my extensive world travels.' So, when Lillie returns to the US she puts up a blog about her encounter with Chabil Mar's welcome packet. What a special way for us to receive a recognition!"
"Here are some of Lillie's excerpts from the Chabil Mar Resort welcome packet."
Gift Shop: Our gift shop, located near the the front desk, has a variety of local art and handiwork as well as staples such as bug spray, t-shirts and chocolate. Yes, we called chocolate a staple. OR . . . Shoe Shine: If you are wearing shoes that need to be shined, may we suggest that you are wearing improper footwear for Placencia. Take them off and put your toes in the sand. AND . . . Special Occasions: Are you celebrating a special occasion? Please let us know if there is anything we can do to make it extra special. Not celebrating something? Hmm… stop by the front desk and we will help you dream something up. In Belize "just because" can count as a special occasion. Click here to read the entire blog.
"Now several months later that blog has been read by over 54000 fans and been recognized at The Funniest Travel Writing of 2012!
So, says Natalie, "Lillie, thank you, first and foremost, from all of us at Chabil Mar Resort, for allowing us to share your Belize Honeymoon, but also for noticing our special treats! We are so proud to receive such a unique recognition to add to our 2012 list of Awards and Recognitions!