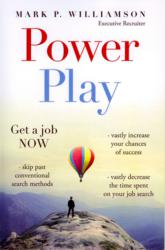 The most motivated person in a job search is the job seeker
Dallas, Texas (PRWEB) March 15, 2013
The book's methodology demonstrates how any person of working age can vastly increase their odds of securing a new job, while vastly speeding the process, as compared to all other conventional search techniques. Results are independent of career circumstances such as being recently laid-off or terminated, being recently graduated, being a stay-at-home mom, seeking to change industries, coming out of retirement, etc.
"After watching countless individuals have no success using conventional search techniques, I began offering bits of advice to help all of those whom I could not help directly. That advice evolved into a methodical step-by-step process to leverage the efforts and skills of the job-seeker. I find with conventional searches, a person becomes too dependent on the efforts of other individuals and companies, which can lead to real heartache," Williamson noted. "Power Play shifts all the control of the job search to the job seeker."
About Mark P Williamson
Williamson is the founder and managing director of Impact 20 Group, recruiting engineers, geoscientists, and other professionals for the exploration and production segment of the oil & gas industry. Based in Dallas since its founding in 2008, the company has grown to thousands of relationships with engineer & geoscientists, serving dozens of US oil & gas clients.
A former business executive, Williamson received an engineering degree from the University of Texas at Austin, holds an MBA from Rice University, and is a former professional stone and bronze sculptor.
For more information on Power Play, please visit http://www.powerplay-williamson.com
###