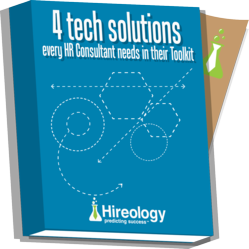 The four technology tools outlined in this eBook support those multiple roles by encouraging productivity.
— Adam Robinson, Hireology CEO
Chicago, IL (PRWEB) March 13, 2013
Hireology, a web-based selection management platform, released an eBook titled '4 Tech Solutions Every HR Service Provider Needs in Their Toolkit'. Targeting HR Consultants, the eBook introduces readers to four technology tools to support productivity.
Delving into the functions each of these tech tools support, the eBook touches on the four key elements of consulting - marketing, hiring/interviewing, organization and communication, and invoicing. The purpose of the eBook is to inform HR consultants of the technology tools available to improve and streamline the services they offer to clients.
"We've been working alongside HR consultants for a long time now," said Adam Robinson, Hireology CEO. "In order to fulfill their client's needs, consultants have to wear many hats. The four technology tools outlined in this eBook support those multiple roles by encouraging productivity."
To download the eBook for free, click here. To learn more about solutions for HR consultants, visit Hireology's 'Better Hiring Today' blog.
About Hireology
Hireology's award-winning Selection Management System helps companies organize their hiring process and leverage data to make better hiring decisions. Franchise systems, banks and financial institutions, healthcare systems, dealer networks, and other multi-site operators use Hireology's web-based Selection Manager™ to deliver consistent and repeatable hiring decisions in the field - leading to better hiring decisions, lower turnover, and increased profitability per location. For more information, please visit http://www.Hireology.com.