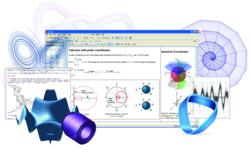 With Maple 17, we've made it even easier for educators to create, customize, and share highly interactive Math Apps with their students. Educators can give their students the same Clickable Math experience they get using built-in Maple tools.
Waterloo, Canada (PRWEB) March 13, 2013
Maplesoft™ today announced a major new release of its flagship product, Maple™, the mathematical computing software for education and research in mathematics, engineering, and the sciences. With Maple 17, Maplesoft introduces more powerful mathematics and a large collection of enhancements dedicated to supporting the creation of interactive Maple Math Apps for teaching and learning. These Apps can be used in Maple 17 or through the recently announced Möbius Project initiative from Maplesoft, providing new ways to bring the power of Maple to even more people.
Maple 17 offers numerous advancements in a variety of branches of mathematics, pushing the frontiers of mathematical knowledge and Maple's capabilities. New functionality includes ground-breaking achievements in solving a whole new class of differential equations, major advancements in solving systems of equations, an extensive new package for working with algebraic groups, new signal processing tools, expanded support for differential geometry, new tools for physics, and more.
Performance has also been enhanced with improvements to frequently called routines and algorithms as well as in the low-level infrastructure of memory management. One example is a new memory manager, which takes advantages of multiple processors to allow computations to run 10% faster on average, with memory-intensive computations running up to 50% faster. With these new abilities, customers can solve more problems, faster, with Maple 17.
While the computation engine forms the heart of Maple's technology, Maplesoft has always considered the entire user experience to be important, from the first explorations by a new user to the development of powerful applications by experienced customers. Maple 17 includes advancements that support the full user experience, with special emphasis on the development of interactive applications for teaching and learning. Highlights include:

Many new Math Apps, which serve as excellent classroom demonstrations on their own and can also be used as building blocks for creating new Apps
Updates to Smart Popups and Drag-to-Solve™ technology for Clickable Math™ interactions
An Embedded Video Component, for adding rich multimedia content to applications
Major updates to the Explore command, which can be used to create a full application with a single command
An Enhanced Plot Builder to easily embed interactive plots with parameters controlled by sliders directly into a document
A new advanced code editor to make code development even easier for more complex applications
"We strive to provide the easiest-to-use environment for exploring mathematics," says Dr. Laurent Bernardin, Executive Vice-President and Chief Scientist at Maplesoft. "With Maple 17, we've made it even easier for educators to create, customize, and share highly interactive Math Apps with their students. Educators can give their students the same Clickable Math experience they get using built-in Maple tools, but with content geared specifically to their own needs and teaching style."
"Between my research, my teaching, and my students, I see Maple used in a lot of different ways," says Dr. Stephen Lynch, Senior Lecturer at Manchester Metropolitan University, author of Maple books, and a long-time user of Maple in the classroom. "With all its advancements in math, performance, and interface, Maple 17 has something for everyone. I am particularly excited about The Möbius Project, and I plan to have my undergrad students develop dynamic math apps that are fun and can help them explore mathematics more deeply. I am also looking forward to the advanced code editor, which will be useful for creating interactive apps and for the development of algorithms in my research."
Maple 17 is available in English, with built-in language extensions available for French, Chinese, Spanish, Korean, Greek, Hungarian, and Brazilian Portuguese. A Japanese version of Maple 17 will be available in April.
For more information about new features in Maple 17 and The Möbius Project, visit http://www.maplesoft.com.
About Maplesoft
Maplesoft™, a subsidiary of Cybernet Systems Co., Ltd. in Japan, has over 20 years of experience developing products for technical education and research, offering a solution that applies to every aspect of academic life. Its product suite reflects the philosophy that given great tools, people can do great things.
Maplesoft's core technology is the world's most advanced symbolic computation engine, which is the foundation for all of its products, including Maple™, the technical computing and documentation environment; MapleSim™, the high-performance, multi-domain modeling and simulation tool for physical systems; and Maple T.A.™, a web-based system for creating and assessing online tests and assignments.
Maplesoft also introduced a fundamental shift in technical education through its Clickable Math™ and Clickable Engineering™ initiatives. The idea behind this shift is to create technology that will allow students and teachers to focus on the concepts, not the tool. These initiatives deliver powerful mathematics through visual, interactive point-and-click methods in Maple, while the intuitive physical modeling environment of MapleSim helps teachers to quickly demonstrate the connection between modeling concepts and the underlying mathematical theory.
Over 90% of advanced research institutions and universities worldwide, including MIT, Stanford, Oxford, the NASA Jet Propulsion Laboratory, and the U.S. Department of Energy, have adopted Maplesoft solutions to enhance their education and research activities. In industry Maplesoft's customers include Ford, Toyota, NASA, Canadian Space Agency, Motorola, and DreamWorks, covering sectors such as automotive, aerospace, electronics, defense, consumer products, and entertainment.
Visit http://www.maplesoft.com to learn more.
About Cybernet Systems Co., Ltd.
CYBERNET SYSTEMS in Japan provides world-class solutions and services in the CAE and IT areas. For more information, visit http://www.cybernet.co.jp/english/