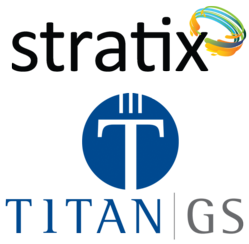 Our partnership with TITAN GS will enable us to leverage a single service provider who possesses the level of Oracle E-Business Suite expertise we need to deliver best-in-class capabilities. - Chris Koterski, CIO, Stratix Corporation
Charlotte, NC (PRWEB) March 14, 2013
TITAN GS, an Oracle® Platinum Partner and cloud solutions provider, announced today that Stratix, the market leader in delivering Managed Mobile Solutions to the Enterprise, has embarked on a multi-year arrangement to jointly launch a transformational initiative called "Program Phoenix". The program is designed to maximize their Oracle E-Business Suite investment, including Oracle Hosting, to optimize operational efficiency, and improve customer service as they expand their portfolio of mobility services to new market segments.
"Our partnership with TITAN GS will enable us to leverage a single service provider who possesses the level of Oracle E-Business Suite expertise we need to deliver best-in-class capabilities that drive operational efficiencies and increase customer value," said Chris Koterski, Chief Information Officer, Stratix Corporation.
"We are excited about our expanded partnership with Stratix. This relationship highlights our core strength in maximizing the transformational value of ERP while minimizing the economic impact of running the technology," said Suheb Siddiqui, TITAN GS COO and Partner in charge of the relationship.
The TITAN GS Global Enterprise Solutions (GES) team will work in unison with Stratix business executives, processing experts, and IT leadership. TITAN GS will provide Consultative Advisory, Oracle Implementation Services, Hosting Services, and Managed Services for Stratix across their organization, including Sales & Contracts Management, Order Management, Customer Service, Supply Chain, Finance and Reporting.
About Stratix:
For over three decades, Stratix has successfully delivered Managed Mobile Services to the Enterprise. Stratix Managed Mobile Services delivers the most extensive and proven resources to Plan, Deploy, Support and Manage 100% of a customer's mobile devices, applications and users. To learn more, please visit StratixCorp.com or call us at 1-800-883-8300.
About TITAN GS:
TITAN GS is a leader in providing turnkey global outsourcing solutions for Supply Chain, Finance, HR, and IT, built on the Oracle Enterprise Resource Planning (ERP) software platforms. TITAN GS is a pioneer in the Business Process-as-a-Service model, and was recently named a "Cool Vendor" by Gartner. Additional information about TITAN GS is available at ttpartners.com or by calling 1-888-430-9252.
For additional information, please contact:
Heather Ferrer Standrod
Stratix Corporation
678-992-2990
Heather.Ferrer(at)stratixcorp(dot)com
Suheb Siddiqui
TITAN GS
704-357-7742
suhebsiddiqui(at)ttpartners(dot)com