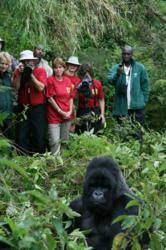 Our business model isn't based on profits, like most businesses are. We measure success by how much we're able to give away – the more the better.
(PRWEB) March 13, 2013
After eight years of offering Rwandan safaris highlighting endangered Mountain Gorillas, Tampa-based Terra Incognita Ecotours announces the opening of an office in the capital city of Kigali. Over the last decade, Rwanda has been making enormous strides to boost entrepreneurship. The World Bank's Annual Doing Business Report currently ranks it the 8th best country for starting a business.
Ged Caddick, founder of Terra Incognita Ecotours, has been planning his Rwandan launch for more than a year. He's excited about utilizing the country's enthusiastic support for ecotourism. Their knowledgeable and experienced businessmen and women, incredible natural resources, wildlife viewing opportunities and warm passionate culture culminate in the ultimate win-win situation for his unique ecotourism business.
The Kigali Ecotours.com office opened in January, and is headed by local Carol Namatovu. Carol has more than ten years of experience in safari planning and operation in Rwanda and Uganda. The Kigali office will serve as a destination management company for any tour operator or travel agent wanting to send clients to Rwanda. Whether staying just a few days to come face to face with Mountain Gorillas or a few weeks while viewing Chimpanzees as well, the Terra Incognita Ecotours Kigali office will service adventure travelers from all over the world – planning the perfect, unforgettable and life-changing adventure.
"Terra Incognita doesn't offer your average travel itineraries," explains founder Ged Caddick. "The business model I created isn't based on profits, like most businesses are. We measure success by how much we're able to give away – the more the better. So when I had a chance to open an office locally, to employ locals and to empower this community, it made perfect sense for my business model. No one on earth is more passionate about Rwanda than Rwandans and I wanted to partner directly with my colleagues on the ground. They're the ones that make the greatest impact on our tourists. They're the ones tourists are inspired by and fall in love with."
While there are a handful of tour operators that host gorilla and chimpanzee tourists in Rwanda, Terra Incognita is the first and only one to open an official office on the ground in Kigali. "It's an important distinction because not only will my office employ local citizens, it will give them the opportunity for a solid, life long career to support their families," says Ged. "In a country where most individuals live on just two dollars per day, that's a very big deal and we're proud to be contributing to the economic growth of this great nation!"
About Terra Incognita Ecotours
After 8 years in business, Terra Incognita Ecotours has donated more than $125,000 to charities in more than 7 countries, literally changing lives each and every time founder Ged Caddick gets on an airplane. Gerard "Ged" Caddick founded Terra Incognita Ecotours in 2004 after over fifteen years of working in the Expedition Travel industry. Ged has led many trips for Lindblad Expeditions, International Expeditions, World Wildlife Fund, National Geographic Society and the American Museum of Natural History as well as many College Alumni groups, the National Audubon Society and the Smithsonian Institution. He also lived in Belize, Central America for a number of years in the late 1980's and worked in the conservation of endangered species for twelve years before becoming involved in the expedition travel industry. It is this mix of expedition travel (a.k.a. ecotourism) and conservation that has helped to shape Terra Incognita Ecotours. Visit http://www.ecotours.com.