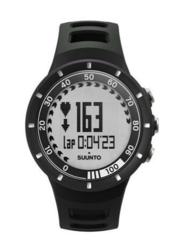 We like Suunto heart rate monitors, especially the fact that they feature larger font sizes which is super nice for aging eyes
Bozeman, MT (PRWEB) March 14, 2013
Suunto Quest recently got put through the paces and compared to the Suunto M5 heart rate monitor by the testers at the Heart Rate Watch Company. "We get a lot of questions about how these two compare so we felt it was time to share our thoughts", says Rusty Squire, President of HRWC.
"The Suunto Quest offers laps, 300 splits and interval timers where the Suunto M5 does not", says Squire. He adds, "It also does heart rate limits and EPOC and VO2 max in Movescount software, which the M5 does not".
Several other major factors were identified by Squire including the Quests ability to offer real-time recovery information, speed, training duration and intensity guidance and the peak training effect which is available in the Movescount software. "All of these features are available with Quest and not in the Suunto M5, as well as a dual time zone feature", says Squire.
UNIQUE FEATURES TO SUUNTO M5
The Suunto M5 uses American College of Sports Medicine exercise recommendations, a 7 day program, daily exercise instructions, along with a fitness test and next workout suggestions.
OVERALL CUSTOMER RATINGS
Overall customer ratings are quite a bit higher at 4 1/2 stars out of five for the Suunto Quest whereas the Suunto M5 is a bit over 3 stars. "No question the Quest is significantly better featured and is definitely the way to go for more serious athletes", says Squire. "With the base Quest only being about $40 more than the Suunto M5 we definitely think it is worth considering", says Squire.
Squire admits that Suunto M5 was the better seller a year ago but that Suunto Quest has taken over as the word has trickled out on the performance of the product. "Especially the Suunto Quest running pack", adds Squire.
"We like Suunto heart rate monitors, especially the fact that they feature larger font sizes which is super nice for aging eyes", says Squire.