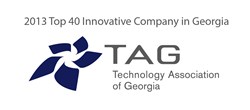 We're extremely proud and honored to be among this elite group of innovative companies. We're also very proud and excited to roll out ReelREV to the gaming industry.
ATLANTA, GA (PRWEB) March 13, 2013
ReelREV™, automated pricing science software for slot machines designed to generate greater financial yield from existing casino assets, has earned The Rainmaker Group a spot on the Technology Association of Georgia's (TAG's) prestigious Top 40 Innovative Technology Companies in Georgia. More than 90 companies from throughout the state submitted applications in this the ninth year of competition.
The leading technology industry association dedicated to the promotion and economic advancement of the state's technology industry, TAG recognizes Georgia-based technology companies for their innovation, financial impact, and their efforts at spreading awareness of Georgia's technology initiatives throughout the U.S. and globally.
"We're extremely proud and honored to be among this elite group of innovative companies," said Tammy Farley, president of Rainmaker. "We're also very proud and excited to roll out ReelREV to the gaming industry, a product we've been beta-testing since last June and which has consistently produced strong results at the test venue."
ReelREV's debut could not come at a better time. Today's slot floor is increasingly dynamic, with shortened product life cycles and players having more choices of what games to play and how to play. Smartly configuring today's dynamic mix of games and strategically merchandising the slot floor is a high-stakes game in itself.
This is where ReelREV comes in.
"Prior to ReelREV, slot floor operators had virtually no exposure to revenue optimization," said Farley. "Operator focus was primarily on taking bad-performing games and turning them into solid performers by purchasing game conversions. And yet revenue management principles often have shown the better strategy for generating greater potential lift is to focus on games already performing well and taking those games to an even higher level."
This strategy goes to the core of ReelREV, a software solution built on an understanding of how slots work. It is a strategy that requires a different set of metrics, analytical tools and data formats – one that requires an understanding of both the limitations of each slot machine and the levers available to improve game performance. In addition, understanding the relative performance of different types of slot products requires an ability to slice datasets in unique and previously unavailable ways to create the best comparative analysis. ReelREV incorporates data from outside the standard Casino Management System to enable a discipline of continuous improvement.
"ReelREV places all analysis and decision-making capabilities in the hands of the user, while in the background, mathematical models create evaluations and suggestions to improve game performance," said Farley. "What makes this product unique is its capacity to not only accurately diagnose and reveal opportunities to improve slot performance, but also guide the execution to yield the entire slot floor."
Companies selected for the "Top 40" will be recognized next week at the 2013 Georgia Technology Summit at the Cobb Galleria Centre in Atlanta. The event is expected to draw a crowd of more than 1,000 C-level executives, entrepreneurs, technology professionals and academia to celebrate and recognize Georgia's technology community.
About Rainmaker
The Rainmaker Group is the market-leading provider of automated Revenue Management and profit optimization solutions for the Gaming, Hospitality and Multifamily Housing industries. Rainmaker is a Microsoft Gold Certified Partner and leverages cutting-edge research in order to bring clients the most sophisticated solutions to their revenue management challenges. Rainmaker's sole focus is to significantly improve clients' bottom line revenue through business process improvements and the implementation of our software. Rainmaker leverages cutting-edge research to bring customers the most sophisticated solutions to their revenue management challenges –solutions that give them a strategic advantage in achieving the highest profitability from their assets. For two years running, Inc. magazine has ranked Rainmaker among America's top 5,000 fastest growing, privately held companies. For more information, visit http://www.LetItRain.com.
About The Technology Association of Georgia (TAG)
The Technology Association of Georgia (TAG) is the leading technology industry association in the state, serving more than 18,500 members and hosting over 200 events each year. TAG serves as an umbrella organization for 32 industry societies, each of which provides rich content for TAG constituents. TAG's mission is to educate, promote, influence and unite Georgia's technology community to foster an innovative and connected marketplace that stimulates and enhances a tech-based economy. The association provides members with access to networking and educational programs; recognizes and promotes Georgia's technology leaders and companies; and advocates for legislative action that enhances the state's economic climate for technology. Additionally, the TAG Education Collaborative (TAG's charitable arm) focuses on helping science, technology, engineering and math (STEM) education initiatives thrive. For more information visit the TAG website at http://www.tagonline.org or TAG's community website at http://www.TAGthink.com. To learn about the TAG-Ed Collaborative, visit http://www.tagedonline.org/.