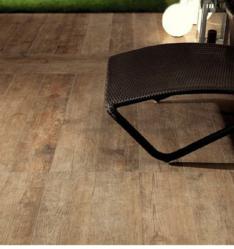 Sylmar, CA (PRWEB) March 13, 2013
With its delicate colors balanced by the bold striations of its grain, vintage wood offers a classic and timeless look for floors and walls alike. Yet wood has its weaknesses: it can't be used in wet or high-traffic areas, since it lacks the imperviousness and durability of porcelain tile. Now, Walker Zanger has bridged that previously impassible divide with the introduction of Nature, a new plank-style porcelain tile collection that looks and feels like wood, yet wears and endures with the power of porcelain.
Nature looks, quite simply, like wood. It boasts all the organic nuance, color, and patina of antique wood floors found in cottages and country estates, with a vintage, weathered look that embodies timeless warmth. Yet Nature is deceptively high-tech, employing the latest advances in digital glazing to perfectly mimic the look and feel of wood, allowing it to be used in places where wood has always been employed—and in many places where it has never ventured.
"With the advent of Nature, the look of rich, antique wood can be brought to areas where water is present, such as kitchens and baths, as well as high-traffic areas like retail, hospitality and commercial office lofts," notes Walker Zanger Vice President of Design and Marketing Jared Becker. "Its ability to beautifully weather the elements and wear-and-tear make it an exciting new choice for indoor and outdoor installations."
Just like real wood, Nature is available in bold planks of 6- and 8-inch widths, each nearly four feet long. Nature is featured in colors that include: White, Honey, Grey, and Brown. The Nature Collection is available, nationwide, immediately.
ABOUT WALKER ZANGER:
Celebrating its 60th anniversary, HUWalker Zanger,UH the world's most comprehensive stone and tile company, combines traditional tile-making techniques with a modern sophistication that transcends any singular design style. A leading choice for design professionals and consumers, Walker Zanger natural stone and tile products can be found in luxury homes, trendy boutiques, lavish spas and resorts, famed museums and fine restaurants around the globe.
Walker Zanger is available through 15 beautiful showrooms and more than 200 authorized dealers nationwide. To learn more about Walker Zanger and its line of products visit
http://www.walkerzanger.com.