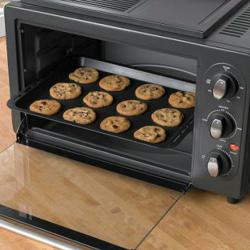 BrylaneHome® customers love our collection of kitchen appliances for their simplicity, easy-to-use controls and practical design.
New York, NY (PRWEB) March 14, 2013
BrylaneHome®, home and lifestyles brand in the portfolio of OSP Group, has just launched an expanded collection of exclusive kitchen solutions, featuring innovative, space-saving, multi-functional design to make cooking faster and easier than ever.
BrylaneHome® has become a one-stop-shop for all things home, and its growing small electrics category is no exception. Choosing the right appliances comes down to quality and performance and that's why BrylaneHome® focuses on finding the best of both worlds while maximizing the value for all of its customers. Whether someone is setting up a kitchen for the first time, or is an experienced cook looking for essential tools every 'chef' needs in the kitchen, BrylaneHome® has a full line of not only small electrics, but also an extensive collection of kitchen tools and accessories.
For spring 2013, BrylaneHome® is featuring new branded products in its electrics category, designed to save significant counter space and affordably priced to rival any assortment. Here are some of the highlights: the BrylaneHome® Contact Health Grill and Griddle features a 5-in-1 design that opens to a full grill, full griddle, half grill/griddle, and closes to a contact grill and panini press, making it easy to grill up healthy and tasty treats; the versatile 10-in-1 Toaster Oven does it all - toasts, warms, rotisserie, grills, griddle, fries, steams, broils, bakes and roasts - complete with rotisserie and convection, top grill tray and cover, 8 chromed skewers, rotisserie basket and grill rack, and rounded back to accommodate a pizza stone, cake and pie; featuring a 2 tank design, the Double Deep Fryer adds flexibility by letting you choose between a full or half batch or mixing and matching - plus, individual wire baskets and see-thru lids with filter helps a busy cook keep an eye on their meal; doubling as a kitchen hand mixer due to its detachable power head, the BrylaneHome® Turbo Hand/Stand Mixer features 5 speeds with turbo and includes 2 chromed beaters and dough hooks; finally, fry up something special in the Cool-Touch Fryer with cool-touch ABS plastic exterior walls for safety, a large viewing window, adjustable thermostat and handled lift-up basket.
"BrylaneHome® customers love our collection of kitchen appliances for their simplicity, easy-to-use controls and practical design," said David Milgrom, Senior Vice President, General Brand Manager for BrylaneHome®. "With each product we offer, we're filling a need, fixing a problem, and overall, making our customers' lives a little simpler."
Visit BrylaneHome.com and order anytime 24/7. Customers can also join the thousands of fans who are following BrylaneHome® on its Facebook and Twitter pages.
About OSP Group
OSP Group is the preferred brand portfolio of women's apparel, shoes, lingerie, men's and home products dedicated to plus sizes. Proprietary brands under the OSP Group umbrella include: Woman Within® (WomanWithin.com), Roaman's® (Roamans.com), Jessica London® (JessicaLondon.com), fullbeauty® (fullbeauty.com), KingSize® (KingSizeDirect.com), BrylaneHome® (BrylaneHome.com), BCO® Bargain Catalog Outlet™ (BCOutlet.com) and OneStopPlus.com®, an online marketplace featuring thousands of brands and products, the #1 destination to shop for plus sizes.
Contact Information
Karen Davis
Corporate PR & Communications
OSP Group
Karen.davis(at)redcatsusa(dot)com
212-502-9315