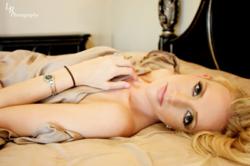 Your Leader in Luxury
Charlotte, NC (PRWEB) March 15, 2013
A Charlotte, N.C. real estate firm says business is booming, thanks to their sexy new marketing plan that involves hiring models to pose in listings photos of luxury homes.
During the boom years of 2006 and 2007, Peters and Associates Real Estate was the No.1 seller of high-end homes in the Charlotte region. Then the market crashed and real estate sales dried up for most of 2008 and 2009. Peters and Associates owners Nick and Miriam Peters then decided to spice up their marketing and have been having tremendous success ever since.
The couple creates an image by spending thousands of dollars on clothing and cars; and they photograph their listings with sexy, attractive people.
Peters caters to high-profile and high-net-worth individuals, such as professional athletes, coaches, entertainers, executives and other VIPs. These clients are looking for a lifestyle and amenities much different from the average homebuyer.
To learn more visit us at YourLeaderinLuxury.com, Lifestyle Photos, Lifestyle Video.
About Nicholas & Miriam Peters:
With over 12 years of real estate and mortgage experience, and over 6 years of brokerage management experience, Miriam Peters provides an unparalleled combination of knowledge and skill. Miriam has sold over $150 million in residential real estate in the Charlotte metro and surrounding areas, as well as Virginia and South Carolina. She currently holds an active Broker license in both North Carolina and South Carolina. Miriam's use of the latest technology available and her availability to the most effective marketing in the area ensure that her seller clients have a distinct advantage over others in getting their homes sold quickly and at top market value.