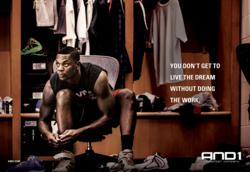 "By working together, we can help some very deserving basketball campers and their hard-working families." - Maurice Levy AND1
New York, NY (PRWEB) March 16, 2013
The AND1 brand today announced that it will provide youth basketball apparel and donate seed money to help rebuild the legendary St. Francis de Sales summer basketball program in Belle Harbor, New York. The Rockaway peninsula parish's outdoor basketball courts, which serve over 1,000 participating youngsters from the entire New York area, were destroyed during Super Storm Sandy last October 29th. The AND1 apparel and a $5,000 donation to help restore the flood-ravaged outdoor courts will give the legendary basketball summer program a much needed-boost as the warmer weather approaches and basketball campers prepare for their annual ritual of playing at basketball camp in The Rockaways. AND 1, an iconic fixture in the global basketball culture, recently began its own re-launch in celebration of the brand's 20th anniversary.
"There are few communities anywhere in the country where basketball is so tightly woven into its fabric than the Rockaways, and there are even fewer legendary summer programs than those at St. Francis de Sales," said Maurice Levy, Marketing Director for AND1. "This donation of apparel and seed money will be a good step towards helping heal a community on the rebound, where basketball is so important. AND 1 has always been about using the game as a metaphor to never give up in life, and we believe that mantra mirrors the values of the hoops culture of The Rockaways. By working together, we can help some very deserving basketball campers and their hard-working families."
"St. Francis is the backbone of the community in the Rockaways, but it is also the summer basketball home for everyone from Dick McGuire and Julius Erving to Chris Mullin, Mark Jackson and thousands of young people who play on these courts from morning until night every day," said Terence Mullin, camp director and coach for St. Francis de Sales. "This assist by AND 1, a brand that has always understood the power of a basketball culture, will give us a much needed boost as our kids return to the courts and the youth programs this summer. They understand the value of keeping kids active through a sport like basketball, and now we will again have the ability to do that."
The $5,000 will jumpstart a brand new campaign with a goal to raise $100,000 to fully restore the damaged grounds and basketball courts. AND1 will provide uniforms for the participants in the summer league program which tip-off in June. The St. Francis de Sales Summer League annually plays host to over 1,000 young players, ages five to 18, know as one of New York's most vibrant Catholic Youth Organization (CYO) programs. Many of the sport's rising high school and collegiate stars play summer basketball in Rockaway, the summertime home to organized basketball for over 70 years.
ABOUT AND 1
Launched in 1993 in Philadelphia, and now re-organized and headquartered in New York, AND1 has been a shoe and apparel brand that has celebrated and championed the grassroots basketball culture. The AND1 mission remains the same as it's always has been -- to focus on those who are passionate about basketball and use the game as a springboard to success in everything they set out to do in life. The celebration of hard work, freedom of expression and dedication to excellence is reflected in the unique and iconic product that the brand established 20 years ago and will continue to create for both the dedicated player and the casual competitor. For more details on AND1's new offerings, restored vision and its programs visit: http://and1.com
ABOUT St. Francis de Sales:
More information on the parish's summer basketball programs and its fund raising, visit http://www.stfrancisdesales.kintera.org.