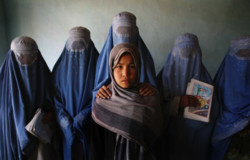 Washington, DC (PRWEB) March 13, 2013
An opening reception co-sponsored by the United Nations Population Fund (UNFPA) and the UN Foundation and presented with the US-Afghan Women's Council will be held on March 14 at 5:30pm. Congresswoman Edwards (MD-04) and Wazhma Frogh, renowned Afghan women's rights advocate and 2009 International Women of Courage award recipient, along with UN Women and UNFPA representatives will offer remarks highlighting the changing landscape for women's rights in Afghanistan.
The exhibition features photography from ten international photojournalists and depicts the status of women and girls in areas of peace and security, education, economic development, and access to healthcare. A timeline of women's rights accompanies a collection of essays and writings by journalist Elizabeth Rubin and curator Leslie Thomas. Frequent collaborators Giorgio Baravalle, art direction, and Greg Doench, display design, joined ART WORKS in the project.
The initiative, first launched as an online resource (http://www.womenbetweenpeaceandwar.org) with support from UN Women, has been expanded to poster, video, and book formats through the Sappi, Ideas that Matter grant program. It is being displayed internationally in civic, cultural, and academic centers.
Photographers in the project include: Lynsey Addario, Paula Bronstein, Jean Chung, Jared Moossy, Ron Haviv, Stephanie Sinclair, Abbie Trayler-Smith, Véronique de Viguerie, Moises Saman, and Farzana Wahidy. Biographic information on the project photographers is available at: http://www.womenbetweenpeaceandwar.org
ABOUT THE PARTNERS
ART WORKS Projects http://www.artworksprojects.org
ART WORKS Projects for Human Rights' mission is to use design and the arts to raise awareness of and educate the public about significant human rights and environmental issues.
UN Women http://www.unwomen.org
UN Women is the UN organization dedicated to gender equality and the empowerment of women. A global champion for women and girls, UN Women was established to accelerate progress on meeting their needs worldwide. It stands behind women's equal participation in all aspects of life, focusing on increasing women's leadership and participation; ending violence against women; engaging women in all aspects of peace and security processes and enhancing women's economic empowerment.
United Nations Population Fund (UNFPA) http://www.unfpa.org
UNFPA delivers a world where every pregnancy is wanted, every birth is safe, and every young person's potential is fulfilled.
United Nations Foundation http://www.unfoundation.org
The United Nations Foundation builds public-private partnerships to address the world's most pressing problems, and broadens support for the United Nations through advocacy and public outreach. Through innovative campaigns and initiatives, the Foundation connects people, ideas, and resources to help the UN solve global problems. The Foundation was created in 1998 as a U.S. public charity by entrepreneur and philanthropist Ted Turner and now is supported by global corporations, foundations, governments, and individuals.
The U.S.-Afghan Women's Council (USAWC)
USAWC is a public-private partnership based at Georgetown University that enjoys broad bi-partisan support from the U.S. Government. The mission of the USAWC is to mobilize resources and encourage partnerships in support of Afghan women and children in the areas of education, health, economic empowerment, leadership development, and humanitarian assistance.
Wazhma Frogh
Wazhma Frogh is the co founder of Afghanistan's first Research Institute focusing on Women Peace & Security, Former Country Director of Global Rights Afghanistan and the recipient of 2009 International Woman of Courage Award. For the past 15 years, Ms Frogh has devoted her career to the mobilization of social change to benefit Afghan women focusing on the issues of peace and security, legislative advocacy and public policy engagement from a woman's perspective.
Giorgio Baravalle, de.MO http://www.de-mo.org
de.MO is an award-winning multidisciplinary design firm that produces diverse projects representing a wide range of international clients and their businesses.