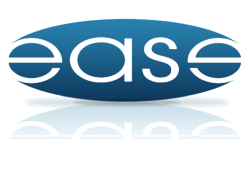 We would not have reached this milestone without the top companies around the world who use EASE.
Mission Viejo, CA (PRWEB) March 14, 2013
EASE, Inc., celebrates 27 years as the leading provider of lean manufacturing design-to-production solutions, securing a dominate position in the industrial engineering software industries. With the latest release of software enhancements for our EASEworks® suite of products, 7.0 this is moving EASE ahead of the industry.
Michael Linos, CEO and President of EASE Inc. said "We would not have reached this milestone without the top companies around the world who use EASE. Throughout this year, we want to celebrate by thanking the people around the globe who have made EASE what it is today. To our associates, customers, and partners, we thank you." Although focused on the future, EASE tries not to forget how far it has come in 27 years. "For a company like ours to grow in an increasingly competitive global economy, the need for exceptional people is a given. However, having first rate quality systems and superior software technology will be more critical for our customers in the future," stated Mr. Linos.
Shawn Faircloth, Director of Business Development at EASE, Inc. said "It's virtually unheard of for a software maker to be in business this long, 27 years in business is a remarkable achievement and I am excited to do everything in my power to make sure EASE is here for another 27 years."
EASE has helped companies in the following industries reduce costs and stay profitable: Manufacturing, Retail, Automotive, Electronics, Aerospace & Defense, Agribusiness and Logistics & Distribution. EASE is now installed at over 500 locations in over 20 countries and RetailEASE Labor Standards are used at 20,000+ retail locations worldwide.
About EASE Inc. – EASE Inc. was founded in 1986 with the goal of providing Industrial Engineers, Manufacturing Engineers and Quality Engineers with a powerful and cost effective suite of software products. EASE Inc. is the leading provider of On-Demand Manufacturing Productivity Solutions with clients that include: Dell, Cummins, Harley Davidson, Aston Martin, Black & Decker, Rolls Royce, Home Depot, Safeway, US Navy, Raytheon, Sub-Zero, Teledyne, Toys "R" Us, Tyson, Hitachi, Lowe's and many others. EASE Inc. is a recognized innovator in the field of Process Improvement, Work Measurement, Engineered Labor Standards, Work Instructions and Manufacturing Document Management software.
For additional information please contact EASE Inc. at 949-348-7511 and visit our website at http://www.easeinc.com.