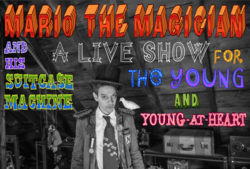 New York, NY (PRWEB) March 14, 2013
Metropolitan Room Kids Kabaret presents Mario the Magician and his Suitcase Machine.
Selected Saturday mornings at 11:30AM at Metropolitan Room • 34 West 22nd Street, New York NY
Scheduled dates:
Saturdays April 6, 20, May 4, 18, June 1, 15, and July 6 (2013), 11:30AM-12:30PM
For the first time ever, premier NYC jazz/cabaret club Metropolitan Room will open their Flatiron District doors for children's/family programming on selected Saturday mornings. Kicking off their Kids Kabaret series with a run of twice-monthly performances from April 6th to July 6th (2013) is popular local performer Mario Marchese, better known as Mario the Magician, with his show, "Mario the Magician and his Suitcase Machine."
Once a hitchhiking explorer who spent one summer herding sheep and another summer building and living in a tree house in the woods, Marchese settled back in his home state of New York several years ago to pursue his passion, magic, full-time. He has since built a name for himself as an innovator in family-friendly entertainment, known for his endearing and ridiculous slapstick character and his handmade props, including the work of art he calls his "suitcase machine."
Marchese is the subject of a short, five-minute film entitled Building Magic, which debuted to a full house at the David Rubenstein Atrium at Lincoln Center on December 1, 2012, after his live performance there. Each of his shows at Metropolitan Room will commence with a viewing of the film.
For more information about the show, please visit marioandhissuitcasemachine.com.
For more information about Mario the Magician, visit mariothemagician.com.
ADMISSION: $20 per child • $30 per adult • + 1 menu item minimum
Tickets can be purchased at metropolitanroom.com or 212.206.0440.
Recommended for ages 3-10 and their families.