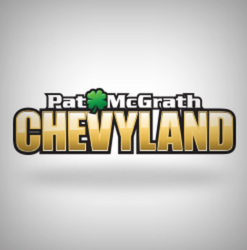 Cedar Rapids, IA (PRWEB) March 13, 2013
Pat McGrath Chevyland is the proud recipient of the Dealer of the Year Award from General Motors. This marks the third consecutive year the Cedar Rapids Chevrolet dealership has been granted the award.
The Dealer of the Year Award is given to the top dealership based on its sales volume, high customer satisfaction ratings, parts efficiency and up-to-date quality facilities. Pat McGrath Chevyland's continued success is a testament to the dealership's commitment to these values.
Winning General Motors' Dealer of the Year is a challenging feat. "Only 50 Chevrolet dealers in the country are given this award, out of 3,100 Chevrolet dealers," Pat McGrath, owner of Chevyland, said. McGrath is proud to win this award for three years in a row, and believes it showcases their dedication to excellence in all areas of sales and service.
ABOUT PAT MCGRATH CHEVYLAND:
Pat McGrath Chevyland is your destination for new and pre-owned Chevrolet vehicles in Cedar Rapids, Iowa, and surrounding communities! Our dealership staff is committed to customer satisfaction. When you visit Pat McGrath Chevyland, you'll find incredible deals on cars, trucks, SUVs and vans, along with stellar service, financing and more. Visit our Cedar Rapids, Iowa, Chevrolet dealership today to test drive your dream vehicle, or learn more at http://patmcgrathchevyland.com.
ABOUT CBT NEWS:
CBT News/Car Biz Today, is an online news source dedicated to providing the retail automotive industry with news, training and event coverage through various forms of multi-media journalism. The online news source has more than 25,000 subscribers made up of new car dealers and their personnel. CBT News is home to award winning broadcasters and is headquartered in Atlanta, Ga.