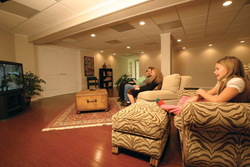 Nitro, WV (PRWEB) March 16, 2013
Alford Home Solutions announces its certification as the newest dealer in West Virginia, Kentucky, and Ohio for Total Basement Finishing, the top-rated basement remodeling system.
Becoming authorized as a Total Basement Finishing (TBF) contractor means that Alford Home Solutions will transform any unfinished basement into a customized, healthy, and beautiful living space for their customers. Designed to resist water and mold, the system features permanent waterproofing solutions, energy-efficient 'green' products, and written warranties including a 50-year basement wall warranty.
Alford offers a free design quote with every TBF project. The quote includes on-site inspection, a design consultation, a written proposal, and the informative book, "Basement Finishing Science." During the design consultation, customers see how their remodeled basement will look prior to installation with the system's patented Basement Finishing Vision software which the staff is trained to use.
Total Basement Finishing is an international network of independently owned and operated contractors specializing in waterproof solutions to quality basement finishing. As a division of Basement Systems, Inc., members receive continued training in the latest technologies and use only proven products developed by the network's expert engineers.
Alford Home Solutions has been providing trusted service since 1963. In addition to basement finishing, their comprehensive solutions cover pest control, waterproofing, construction, insulation, and replacement windows.
Alford Home Solutions serves the greater Charleston area as well as communities in Ohio and Kentucky.