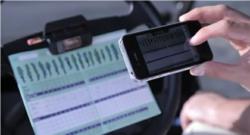 The release of the Android Golf Handicap app complement the existing iPhone app
Miami, FL (PRWEB) March 14, 2013
The new golf handicap tracker release for TheGrint is its Android app. This app does everything that the golfer needs to track their rounds plus a great component of social features for golfers to share their rounds.
For people who are not familiar with TheGrint, it is a company that provides golfers with a platform to obtain official golf handicap following all USGA guidelines. However, what is special about TheGrint is how they make it easy to track golfers rounds.
Using TheGrint golfer can take a picture of the Scorecard at the end of a golf round, upload the image with TheGrint's mobile app (or by email), and the score will be uploaded into the golfers profile. So what used to take a lot of work and hassle from the golfer, now is reduced to a 45 second action.
The release of the Android Golf Handicap app complement the existing iPhone app, and allows TheGrint to reach the majority of the apps market. The company plans to continue to develop its app and innovate in the market to make it even more appealing to golfers.