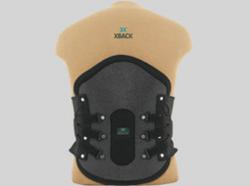 Asheville, NC (PRWEB) March 15, 2013
Aeroflow Healthcare has partnered with XBACK® Bracing Services, Inc. to offer high quality braces that are significant thinner and lighter than conventional braces. Back pain is the second most common reason for doctor's office visits, it is estimated that 80% of the population will experience a back problem at some point in their life.
The XBACK braces are anatomically preshaped and have a single adjustable compression strap on each side, making the brace much easier to put on, adjust and remove. Most X-Back braces weigh less than 22 ounces making them much easier to wear under most clothing and more comfortable when driving or sitting.
Bracing can be an effective, non-invasive alternative to pharmacological treatments to relieve pain and facilitate healing and rehabilitation.

Bracing is an economical conservative first approach to addressing back pain and many common back conditions.
Bracing that is comfortable to wear will improve patient compliance resulting in better patient outcomes.
Bracing is "Patient-Friendly" easy to learn to use, thereby improving compliance.
Aeroflow Healthcare works with patients and their heath care providers to find the correct size and brace based on their diagnosis and works with insurance payers including Medicare to handle all billing needs.
Aeroflow Healthcare is a durable medical equipment and diagnostic testing company with nine offices in the Southeast and the ability to ship nationwide. Aeroflow is currently accepting most major insurances to help patients live a better life through compassion, excellent service and exceptional products. Aeroflow has been providing high quality care to patients since 2001.
For more information about Aeroflow Healthcare visit, http://www.aeroflowinc.com