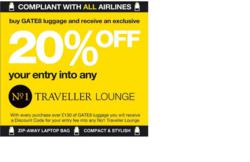 Kent (PRWEB UK) 14 March 2013
We have partnered with Gate8 so that any customer spending over £130.00 on Gate8 products can now receive an exclusive 20% discount voucher to any No.1 Traveller. No.1 lounges are situated at several airports. They can be found at Heathrow, Gatwick, Stansted and Birmingham airports. The lounges offer complimentary food and drinks, free Wi-Fi and runway views before you fly. The great thing about any No.1 Traveller is that all passengers are welcome regardless of airline or class of seat.
Gate8 manufacturer have a great slogan for the range and it is a range that is S.M.A.R.T.
S. Stylish and practical luggage
M. Modular flexible approach, with very clever zip-away laptop bags
A. ALL Airline Friendly (take on-board ALL airlines)
R. Robust, premium quality builds. ALL backed by a 5 Year Warranty
T. Time and Money saving by avoiding baggage collection and luggage check-in and carry on fees.
The Gate8 range is an innovative range that satisfies the needs of a busy traveller in one bag. The bags are designed to have the entire laptop section removed without having to open the main bag, while the main compartment can store items for short journeys. The range has a professional look and is of high quality which makes it a highly sought after bag. Gate8 is definitely airline friendly luggage.
Luggagesuperstore established site is in West Kingsdown, Kent. Their aim is providing competitive prices of the highest quality luggage and top calibre Customer Service for online luggage shopping. Luggage Superstore recommends Carlton Luggage.
Trina Chee-a-kwai
Luggage Superstore
01474 854666
Email information