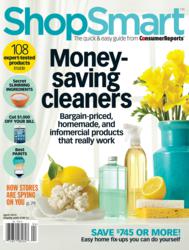 "It's important to have the right tools for cleaning," said Lisa Lee Freeman, editor-in-chief of ShopSmart. "We've found some great products that worked well – and they don't cost a lot of money."
Yonkers, NY (PRWEB) March 13, 2013
The best cleaning products don't necessarily cost a fortune. The April 2013 issue of ShopSmart magazine, from Consumer Reports, identifies 12 cleaning products that work as well or even better than their expensive counterparts according to tests.
"It's important to have the right tools for cleaning," said Lisa Lee Freeman, editor-in-chief of ShopSmart. "We've found some great products that worked well – and they don't cost a lot of money."
ShopSmart's full cover feature on cleaning also includes tried-and-true basic cleaners, instructions for making cleaners at home, easy tricks that can save on cleaning and a breakdown of some of the best and worst TV infomercial cleaning products.
Here's some of ShopSmart's picks for best bargain cleaners:

Cleanser:Comet with Bleach, $1.25, can be used to tackle many jobs. It even did great in tough toilet bowl cleaner tests.
All-Purpose: Pine-Sol Original, $2.48, beat out 18 pricier cleaners and left no streaks.
Laundry Liquid: Up & Up HE Fresh Breeze (Target), $13; 11 cents per load, works in regular and HE washers and did great on grass, chocolate and other stains.
Stain Stick: CVS On The Go, $1.99, performed as well as Tide to Go in tests. Like Tide, the only stain it couldn't lick was lipstick.
ShopSmart gathered more than a dozen cleaning products hawked on TV infomericals and put these products to the test in real homes, swabbing floors, dusting cobwebs, and cleaning dirty bathroom grout and backyard grills. Some did ok, but most were still letdowns. Below are four products that were downright duds.

Deluxe Hi-Reach Cleaning Kit ($37 plus S&H) This kit is equipped with multiple dusting heads, a lightbulb changer and a squeegee. The flexible dusting head is supposed to help users get to hard-to-reach places with ease. ShopSmart testers got to some hard-to reach spots with this product, but "flexible" is an understatement - it's too bendy and the dusting attachment broke after bending one too many times.
Grill Daddy Grill Cleaner ($14.95 plus S&H) Although it claims to be a "revolutionary grill-cleaning tool" that cleans with the power of steam, in tests it didn't leave grills spotless and one ShopSmart tester's hand got hot. Instead, use a clean water spray bottle and a grill brush for cheaper, better results.
Grout Bully ($10 plus S&H) This product says it will clean and renew grout on contact, plus remove mold and eliminate mildew. In tests, it was a messy, time-consuming job leaving the grout looking like it was painted on. It initially hid but didn't eliminate mold and mildew.
The Original Smart Mop ($19.99 plus S&H) Claiming to cut cleaning time in half and never allowing a user's hands to touch dirty water, this mop cleaned floors fine. However, twisting the pole to wring it out often loosened a screw which fell off and the handle came apart too.
No matter what products and tools are used to clean, it's important to always take caution. Here are ShopSmart's five cleaning safety musts:
1. Never mix bleach with ammonia, vinegar, or other acids. Those combos can produce deadly gases.
2. Always wear gloves to protect skin.
3. Store safely. Keep all cleaners, including homemade ones, well labeled. Store them away from kids and pets.
4. When working with chemical cleaners, check warning labels, open windows and doors, and keep kids and pets far away from where you are cleaning.
5. Try a cleaner in a hidden spot before using it on a surface for the first time to make sure the product doesn't cause any discoloration or damage.
About Consumer Reports:
Consumer Reports is the world's largest independent product-testing organization. Using its more than 50 labs, auto test center, and survey research center, the nonprofit rates thousands of products and services annually. Founded in 1936, Consumer Reports has over 8 million subscribers to its magazine, website, and other publications. Its advocacy division, Consumers Union, works for health reform, food and product safety, financial reform, and other consumer issues in Washington, D.C., the states, and in the marketplace.
About ShopSmart magazine:
Launched in Fall 2006 by Consumer Reports, ShopSmart draws upon the publication's celebrated tradition of accepting no advertisements and providing unbiased product reviews. ShopSmart features product reviews, shopping tips on how to get the most out of products and "best of the best" lists. It's ideal for busy shoppers who place a premium on time. ShopSmart has a newsstand price of $4.99 and is available nationwide at major retailers including Barnes & Noble, Wal-Mart, Borders, Kroger, Safeway and Publix. ShopSmart is available by subscription at http://www.ShopSmartmag.org.
ShopSmart is available 10 times a year. Subscribe at http://www.ShopSmartmag.org.
# # #