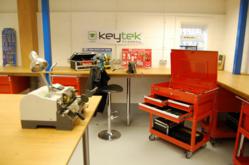 Poole, Dorset (PRWEB UK) 14 March 2013
Armed forces leavers can now use their Enhanced Learning Credits (ELC) to pay towards Keytek locksmith training courses, enabling a swift and easy transition into a successful new career outside of the forces.
ELC Funding
The ELC scheme is an initiative to aid resettlement and promote lifelong learning among members of the armed forces. It can be put towards a vast range of both academic and vocational learning courses. Each eligible claimant can access funding both during their time in the forces and also for up to 10 years after they leave.
To be eligible for lower tier ELC funding of £1000, you must have served in the armed services for a minimum of four years. A higher tier of funding (£2000) is also available for those who have been serving for at least 8 years.
Enhanced Learning Credits are only valid to be used on training courses which meet the National Qualifications Framework (NQF) Level 3 or above. All Keytek's ELC approved courses are Level 4 – the very highest level of accreditation in the locksmith industry.
IRTC (Individual Resettlement Training Costs)
In order to claim ELC funding for a course, the claimant must make a personal contribution of at least 20% towards the total cost of the course. However, members of the forces who intend to leave service within 2 years are now entitled to a £500 IRTC grant, and this can count towards the 20% contribution.
Keytek Locksmith Training
Re-training as a locksmith is a popular career path for armed forces leavers. Ex-servicemen and women tend to fit very well into the locksmith profession, as the problem-solving and manual skills that a career in the armed forces teaches makes them well prepared for the demands and challenges of working as a locksmith.
Keytek is one of the UK's leading locksmith training providers. Every year many trainees, including a large number of armed forces leavers, take their first steps towards a new career as a locksmith at Keytek's state of the art training facilities in Poole, Dorset.
The Keytek Level 4 training courses not only provide an essential and thorough foundation for new locksmiths, but thanks to the ELC and IRTC funding, they represent an affordable and cost-effective route into a profitable new career when the time comes to leave the forces.