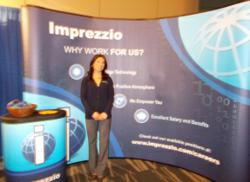 Spokane, WA (PRWEB) March 20, 2013
It's an employment story problem:
_1 (Highly-competitive job market)
+1 (Growing software company in Spokane needing to make its presence known)
------------------------------------------------------------------------
=2 Natural partners (Company searching for top talent/Schools graduating students)
"Now that's an equation that makes sense," says Lisa Bick, a recruiter for Imprezzio, Inc., which produces software solutions for the insurance and parking industries. Bick notes that the company is also highly-interested in qualified, older tech workers with experience in the field.
This month, Bick and HR director Katie Vienhage attended the 19th annual Partnership for Employment Career Fair in Spokane, Washington, where they interacted with many of the hundreds of students and alumni in attendance. An estimated 90 employers and around 500 job seekers attend the fair each year. The annual PEC Fair is hosted by Gonzaga, Whitworth, Washington State, and Eastern Washington universities.
Bick is now actively recruiting for Imprezzio on campuses throughout the Pacific Northwest; from the local ITT Tech to Portland State and BSU. Since its official inception in 2004, Imprezzio has grown by 90% and is continuing to recruit for its Spokane and Seattle offices. On March 20th, the company announced it had hired Dan Sasse to manage its Network Operations Center along with eight IT technicians to staff it.
At least one current employee, Alex Cosma, "won" a job at Imprezzio Global, the company's Romanian subsidiary, by coming in second in Imprezzio's annual software contest. Cosma and his team designed "Hitch", a mobile app that matches hitchhikers with people driving toward the same destination. Another current employee heard about a position at Imprezzio through a friend's re-tweet on Twitter.
Data from the Federal Labor Bureau shows that the high-tech industry is both healthy and hiring. Imprezzio's Holly Doering, a technical writer, says she wishes teachers in her past had nudged her and her female classmates in the direction of science and technology. "We need more women in the industry," she says.
"I was employed in the non-profit world for five years, prior to stumbling across Imprezzio," she adds, "and it was constant shrinkage. There's only one staffer left who was there when I started. Then I join Imprezzio, and by my six month anniversary, they've on-boarded 30 people: It's shocking. But in a good way."
Doering says she doesn't see the need for quality software, like the platforms and applications produced by Imprezzio, ever going away.