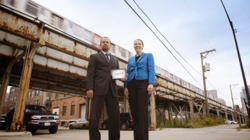 "Absolute Vision brought us [high quality media] at an incredible value, and we couldn't be more happy." -Erin Bauer, Chair of the IIT Chicago-Kent 125th Anniversary Committee
CHICAGO, IL (PRWEB) March 14, 2013
Absolute Vision Productions, a Chicago-based media and production company, moves into 2013 with a string of successes in the collegiate and educational sectors. Recently recognized by high-profile names in Midwest higher education, Absolute finds itself the recipient of praise both by its university clients and the greater marketing community.
Most recently, Absolute Vision led the production of an all-new video series, produced for the IIT Chicago-Kent College of Law 125th Anniversary Gala. The series, produced in conjunction with the Chicago-Kent Alumni Association, featured three pieces on the past, present, and future of the Kent organization. Most notable was "IIT-Chicago Kent: Present", a high-energy piece that captured the connections that tie together Kent alumni, unified by their shared history within the school. The Absolute team traveled throughout the midwest and west coast to produce the piece, capturing distinguished Kent alum in their natural workplace, including Cook County State's Attorney Anita Alvarez, Supreme Court Justice Anne Burke, and former CME Group CEO Craig Donohue, amongst other high profile alum.
These videos follow closely on the heels of Absolute's recent recognition for educational media at the AVA Digital Awards. Competing against over 2,000 entries, Absolute Vision Media took home the top prize among web videos for an educational institution, receiving a Platinum award for their piece, "Prom?", produced in conjunction with Joliet Catholic Academy. This is only the most recent of Absolute's videos for the school, having collaborated for the last four years on a number of compelling recruitment pieces.
"As a prestigious education institution here in Chicago, we need high quality media that matches the work we do here", said Erin Bauer, Chair of the IIT Chicago-Kent 125th Anniversary Committee. "Absolute Vision brought us that at an incredible value, and we couldn't be more happy."
Absolute Vision Productions has a proud history of creating top-quality media for higher education. Including school recruitment videos, Absolute works with admissions departments on strategies for higher enrollment, collaborates on branding for higher education, and produces compelling content for web, TV, and social media. For more information or to speak to a member of the Absolute team, email info(at)AbsoluteVisionProductions(dot)com
About Absolute Vision Productions:
Absolute Vision Productions is a Chicago-based media and production company. Whether for agency-style media, professional video production, local production crew, or general marketing and advertising, Absolute offers national-level experience with local connections and know-how for corporate, educational, commercial, and creative purposes. To learn more, visit http://www.AbsoluteVisionProductions.com.