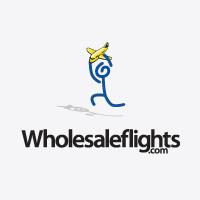 "Over the years, flying has become less luxurious," Fishbeyn said. "Airlines have cutback considerably. We will work to make your flight as full of as many amenities as possible and maximize your budget."
Burlingame, CA (PRWEB) March 26, 2013
WholesaleFlights.com, which sells business and first class flights internationally in addition to international economy and cheap business class flights, is making airfare even less expensive for travelers with an instant savings of $250. All clients need to do is join WholesaleFlights.com's newsletter distribution list.
According to company President Igor Fishbeyn, the decision to offer the discount is multifold.
"Our goal is to provide business class flights and first class tickets at prices people can realistically afford," Fishbeyn said. "This new offer is one way for us to do that. When clients sign-up for our newsletter, they will receive exclusive deals and will save $250 instantly. This is one way we can help them purchase the trip they deserve. There is no fee to participate and clients can unsubscribe from our newsletter at any time."
Fishbeyn added that clients of WholesaleFlights.com who do take advantage of the instant $250 savings will be treated to the company's traditional, specialized service.
"We are an A-plus, Better Business Bureau accredited business that works with all major airlines," Fishbeyn said. "When our clients call, they speak to a personalized concierge who guides them through the entire process, start to finish. Our goal is to make sure clients understand all of the options available to them and to provide exceptional service."
In addition to WholesaleFlights.com's latest extra savings incentive, clients are presented travel solutions that allow them to save up to 70 percent on all economy and business class airfares. Special plans not available to the public created by the competitiveness of international airlines make it possible for WholesaleFlights.com to provide extra luxury to its clients at a lower cost.
"Over the years, flying has become less luxurious," Fishbeyn said. "Airlines have cutback considerably. We will work to make your flight as full of as many amenities as possible and maximize your budget."
For more information about WholesaleFlights.com, visit http://www.wholesaleflights.com.
WholesaleFlights.com is an online travel site that helps customers book discounted flights, including first class and business class. The site also provides personal concierge service in the form of an assigned travel agent and access to discounted hotel rates.