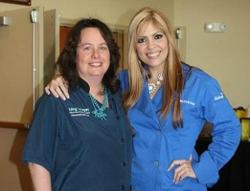 "With new innovative products launching in April, we needed our website to reflect the growth of our company."
Winchester, VA (PRWEB) March 21, 2013
Visitors to the redesigned Icing Images website will experience a vibrant color scheme and easier accessibility to edible printing and paper art supplies, edible image design and tutorial pages. Brand new to the site is a professional cake decorators' page featuring masterpieces made with edible images.
Improved navigation to Icing Images' edible imaging software gives quick access for customers to customize their own individual edible images or manage their printing needs online from the convenience of the IDesigns feature.
iPrint Feature
The iPrint template page has been overhauled to allow customers the option of uploading up to 5 different pictures on one layout to print onto pre-cut circle or rectangle icing sheets. Each image on the layout can be manipulated with zooming or cropping to get the exact area the customer would want printed. Frames and mats can also be applied to the edible image, a further enhancement of design capabilities.
iDesigns Program
The new iDesign program gives access to over 1000 printable edible image designs that are licensed for edible use. This has been updated with new features on the site. The designs have been categorized by featured decorators, seasons, colors, patterns, etc. New icons within the page have given it a fresh, modern look along with providing new design capabilities. To gather design inspirations, customers can now click on a dice icon that shows them designs they can work with. – to see more, they can just "roll the dice" again, providing a fun and interactive way to look through the designs.
Decorators Page
A new decorator page has been added to the site that showcases professional confection decorators that work with Icing Images products in their creations. Showcased on this page are professional sugar art decorators such as Edna De Cruz, Mike Terry, Julie Bashore, and Peg Tucker, all who have been featured on decorating shows on Food Network and/or TLC. Each of the featured decorators provides a testimonial as to why they use Icing Images products.
Tutorial Page
New tutorial pages give edible paper artists access to videos created by professional decorators such as Teri Tarbox, Sidney Galpern, Marsha Winbeckler and others. Each video gives a step-by-step tutorial to aspiring decorators on methods such as making an icing sheet bow, butterfly and flowers.
"With new innovative products launching in April, we needed our website to reflect the growth of our company. We wanted to highlight decorators' cakes as well as make the website more informative for our customers. Icing Images used to be all about printing edible pictures, but now we have excelled beyond the image to edible paper art. This is launching new areas of cake decorating" said Debbie Coughlin, owner of Icing Images.
Over a decade ago, Icing Images specialized in selling equipment to bakers and decorators mostly for printing images to apply to cake tops. As the years went by, new equipment, products and ideas continued to emerge in the edible image industry. Cake decorators were thrilled to work with affordable machines that brought their edible image decorating ideas to a whole new level. Icing Images developed relationships with many talented decorators and this collaboration brought them from just printing edible images to what is now called edible paper art.
New products for edible paper art from Icing Images will be launched in early April 2013.