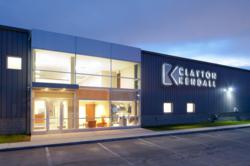 Pittsburgh, PA (PRWEB) March 14, 2013
Clayton Kendall, the largest branded merchandise distributor in Pennsylvania, was recognized by the Three Rivers Advertising Specialty Association (TRASA) as the 2013 Distributor of the Year. The winner was selected based on votes cast by peers, vendors, suppliers, and manufacturers in the promotional product industry. Regina Broudy, Founder and President of Clayton Kendall, accepted the honor during an award ceremony held at the Sheraton Pittsburgh North on March 12, 2013.
Headquartered in Monroeville, PA, Clayton Kendall has been distributing promotional products, custom apparel, and printed materials to companies across the United States and Canada for 14 years. With two separate divisions – Clayton Kendall Programs and rushIMPRINT – the company focuses on ensuring that all branded merchandise orders are processed and delivered on time, every time.
"It's an honor to be recognized by our peers for our accomplishments in the industry," said Daniel Broudy, Vice President. "We can attribute our success to our technology, our processes, and our strong network of vendors and manufacturers. These elements enable us to provide the best possible service to all of our customers."
The Clayton Kendall Programs division specializes in developing branded merchandise programs for companies of all sizes. Using a proven 360 Degree Branded Merchandise Process, Clayton Kendall ensures that each client has the most cost effective mix of promotional items, apparel and printed materials, an ordering solution that makes sense, and fulfillment options that ensure they receive the products they need, when and where they need them. rushIMPRINT, the online retail division, is designed for those customers who need branded promotional items in a rush. Many of the products can be customized and shipped in as little as one day.
In 2012, Clayton Kendall was named one of the Top 100 Fastest Growing Companies and one of the Best Places to Work in Western PA by Pittsburgh Business Times. Regina Broudy was also awarded Member of the Year by the National Association of Women Business Owners (NAWBO) Pittsburgh Chapter based on her business success, professional excellence, community involvement, and efforts to further the mission and goals of the association.
About Clayton Kendall
Clayton Kendall provides businesses with customized branded merchandise programs to help them better manage their promotional products, decorated apparel and printed materials. The company specializes in tailoring each program to meet the unique needs of its customers throughout the United States and in Canada. Clayton Kendall's service offering includes graphic design, product sourcing, customized online ordering systems, printing services, distribution and fulfillment services, and program management.
Clayton Kendall is a privately held company headquartered in Monroeville, Pennsylvania, and is the largest promotional products and decorated apparel distributor in Pennsylvania. The company is certified by the nationally recognized non-profit National Women Business Owners Corporation (NWBOC) and Women's Business Enterprise National Council (WBENC) as a Women Business Enterprise (WBE). For more information, visit http://www.claytonkendall.com.