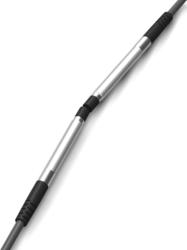 (PRWEB UK) 14 March 2013
As one of the world's market leaders in connectivity solutions, TE Connectivity (TE) today announced the launch of a new technology platform that will allow the delivery of robust power, signals and data without any physical connectors or contact, in virtually any environment.
With the ARISO contactless connectivity solution, issues typically affecting connectivity in harsh environments, such as water, dust or vibrations, will no longer impact the reliable delivery of power, data and signal. This is thanks to the seamless integration of wireless power and radio frequency (RF) technology.
Offering significant benefits to the industrial, consumer, automotive, aerospace, defense and energy markets, the ARISO contactless connectivity platform combines key benefits of contact-based connections such as high reliability power, data and signal transmission with the added flexibility of contactless connections. It is a highly effective platform for applications that contain moving parts and electronics that need to be connected in a harsh environment. In addition, there is virtually no wear and tear due to the lack of physical contact. Productivity can be increased, installation and maintenance costs can be reduced and safety and ease-of-use can be improved in a sustainable manner.
In addition, ARISO contactless connectivity enables new applications and solutions where traditional cables and connectors fail. It enables customers to achieve the following:

Significantly reduce maintenance costs: in traditional industrial segments such as robotics, 70% of unplanned downtime is typically caused due to connector or cable failure. ARISO contactless connectivity can reduce this percentage dramatically as there is no physical contact causing wear and tear on the connector.
Perform in ruggedized environments: due to hermetic sealing, the TE ARISO contactless connectivity couples are not susceptible to dirt, dust or chemical fluids making them ideal for deployment in ruggedized environments and clean environments such as food & beverage production.
Scale to any application: leveraging its proven technology capabilities, TE can quickly design customer-specific contactless connectivity solutions to help our customers fulfill their requirements on time and get ahead of the competition.
Eliminate current design barriers: in robot applications the rotational freedom enabled by ARISO contactless connectivity can result much quicker mating cycles and hence increased productivity.
Transfer power and signal through fluids and walls: this is impossible with any mechanical connector solution. In certain applications such as underwater sensors, the ARISO platform can result in considerable cost savings as it is hermetically sealed enabling parts to be replaced in situ under water.
Minimize risk in flammable environments: plugging and disconnecting a device under load generates a small arc which can lead to an explosion. The TE ARISO contactless connectivity platform cannot cause an arc as it generates a magnetic rather than an electric field.
"We have developed a technology platform that will revolutionize how we connect to the world," said Ulrich Wallenhorst, CTO of TE Industrial. "Imagine a world where water or dust is not a factor in making sure that you can deliver power or data to your point of usage without interruption. That means through the ARISO contactless connectivity technology, power can be transmitted without wires, through water, wall or even surfaces such as glass. This innovation has the capability of changing many industries, from electronics, food & beverages to automotive, consumer and ultimately manufacturing in a historic way".
Editors Note:
Contactless connectivity is defined as a technology whereby two physically separated devices, automatically connect and start transmitting power, data & signal when within range, with negligible loss of power and without loss of data and signal quality.
For more information on the ARISO Contactless Connectivity platform, please visit http://www.ARISOcontactlessconnectivity.com.
About TE Connectivity
TE Connectivity is a global, $13 billion company that designs and manufactures approximately 500,000 products that connect and protect the flow of power and data inside the products that touch every aspect of our lives. Our nearly 100,000 employees partner with customers in virtually every industry—from consumer electronics, energy and healthcare, to automotive, aerospace and communication networks—enabling smarter, faster, better technologies to connect products to possibilities. More information on TE Connectivity can be found at http://www.te.com/.