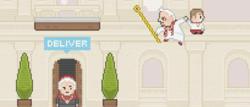 (PRWEB) March 14, 2013
Yesterday white smoke rose over the Sistine Chapel, signaling that a new Pope has been chosen. Meanwhile the old Pope is a busy man. The game Vatican Quest shows you what he's doing.
In this free online game the former Bishop of Rome runs around The Vatican trying to catch young boys and safely deliver them into the arms of his old Cardinals. During this quest, he has to continually avoid the Media, who are trying to catch him red-handed.
The game was released today on the website roundgames.com, who in the past have released satirical games about Joran van der Sloot (Torture Joran), Osama Bin Laden (Osama's Revenge) and North Korea's Kim Jong-il (Kim Jong Nuke Trouble).
Vatican Quest stands in a long tradition of controversial, satirical online flash games, which have been popular since the mid 90's on websites like for example newgrounds.com.
The game can be played on http://www.roundgames.com/game/Vatican+Quest.