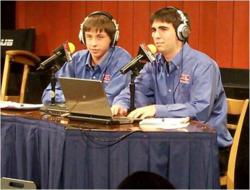 "In an era where the negative influence television, movies and video games has on today's youth is highly debated, "The Scott and Ryan Story" is a wholesome, peer-to-peer message that will indeed inspire the entire family". Jaime M. Rivera, Movie Creator
Orlando, Florida (PRWEB) March 19, 2013
Both just 15 years old, Scott and Ryan accomplished an amazing feat by co-hosting a prime-time weekly sports radio talk show before a studio audience hosting sports celebrities. The show aired live throughout the U.S. and Canada from the ESPN Club at Walt Disney World/Orlando.
A project of the YSN Sports Broadcasting Academy, "The Scott and Ryan Story" is about choices and regrets made during the formative teen-age years. It's also about second chances.
MOVIE PRODUCTION FUNDING CAMPAIGN LAUNCHED.
Through the Kickstarter fund-raising platform, the YSN Sports Broadcasting Academy is seeking to partner with three corporate sponsors who target the teenage demographic. Upon completion of the project, a free DVD copy of the movie, along with a lesson plan will be sent to the over 37,000 public and private high school in the U.S.
ABOUT US: The YSN Sports Broadcasting Academy is a prestigious, 13-week national training program for high school students and recent high school graduates. Classes are taught in a live and interactive web-based teaching platform.