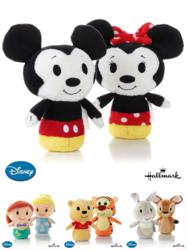 Easter baskets provide Eastertime happiness to children of all ages.
Kansas City, MO (PRWEB) March 14, 2013
Easter baskets provide Easter time happiness to children of all ages. Hallmark understands that and put together a list of the top must haves for a successful Easter basket in 2013.
Card Presenters for Kids Collection – These Easter greeting cards make tearing into that brightly-colored envelope extra fun for kids. Hallmark cards in this collection feature cute characters with cool textures and creative details—like Easter messages tucked inside. Kids will want to keep these friends around even after Easter has come and gone—they're perfect for storing little treasures. $6.99 each.
Squawkin' Egg Droppin' Hen – Back by popular demand, the Squawkin' Egg Droppin' Hen bobs up and down to a parody of "Whoomp! (There It Is)." As she bobs, Mama Hen squawks and lays eggs - and this year Mama's got a brand-new Easter hat and scarf. $15.95 with each purchase of three Hallmark greeting cards. Also check out The Eggs-Cellent Mama Hen accompanying book.
Interactive Story Buddy™ – Perfect for Easter, Abigail™ the chatty, acrobatic bunny who just can't wait to grow up. Kids will love watching her come to life as you read key words aloud from her books. Bundle includes a story buddy, a storybook "Abigail and the Balance Beam", a read-along audio CD and free access to digital story time on Hallmark.com. New just in time for Easter 2013, "Abigail and The Robin's Eggs" book, which includes a vest for Abigail. Also available this Easter, the newest Interactive Story Buddy in the collection, Mason™ and his accompanying storybook "Mason's New Friends." $34.95 for each bundle.
Itty Bitty Plush– Featuring eight Disney characters – Mickie Mouse, Minnie Mouse, Ariel, Cinderella, Tigger and Winnie the Pooh, Thumper and Bambi – with a contemporary styling make-over are available in great sizes to grab and play. They have a styling so unique that you will want to collect them all – just $6.95 each.
Be a Part of the Story™ – With Hallmark's newest line of interactive storybooks, kids have a chat with the main character and keep the story moving. When highlighted lines are read aloud, the character chimes in with a special question or choice for a child to answer. Once the child answers, the character responds and the story continues! New titles for spring include "Batman and the Funhouse Jewelry Heist" and "Sabrina Ballerina at the Grand Talent Show". $24.95 each.
All things Easter can be found at Hallmark Gold Crown® stores nationwide. Use the store locator on Hallmark.com to find the nearest Hallmark Gold Crown store.
About Hallmark Cards, Inc.
Hallmark makes the world a more caring place by helping people express what's in their hearts and spend time together — a privilege few other companies in the world enjoy. Hallmark greeting cards and other products are found in more than 38,000 retail outlets in the United States, including the network of flagship Hallmark Gold Crown® stores. The brand also reaches people online at Hallmark.com and on television through Hallmark Hall of Fame original movies and cable's top-rated Hallmark Channel. Worldwide, Hallmark offers products in more than 30 languages available in 100 countries. This privately held company is based in Kansas City, Mo., and is led by the third generation of the founding Hall family. Visit http://corporate.hallmark.com for more details.