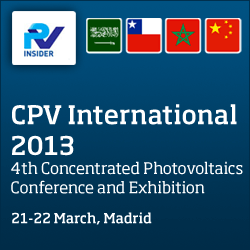 London, UK (PRWEB UK) 16 March 2013
The event will not only demonstrate CPV's competitiveness in new markets, but also the added benefits of CPV plants to the local economy; particularly in areas of job creation and training.
Last week leading systems manufacturer Soitec signed an agreement with Medina College of Technology (MCT), in Saudi Arabia to stimulate research into CPV and develop the capacity of students in design and engineering of CPV systems. The three year agreement will deliver training to both the TVTC and the Medina College of Technology where a pilot Soitec CPV system has already been installed. The pilot installation will help to make Saudi Arabia a centre of applied development and research in the region. A key component of the agreement is the training of Saudi Arabian academics and students in installing, operating, and maintaining CPV systems through joint programmes between the institutions and Soitec Head Quarters.
As the agreement shows, the climate needed for CPV projects present countries which may not have a history of renewable energy adoption with the opportunity to be regional and global experts in this developing technology. Growing a manufacturing and commercial niche is increasingly important in regional and global economies and there is nothing to stop countries such as Saudi Arabia becoming a CPV manufacturing hub. With a lack of CPV growth in the traditional markets in Europe, a key race in 2013 will be which countries attract the investment, research and CPV projects to create sustained economic growth. Soitec's recent factory will support as many as 450 jobs at full capacity whilst Heliotrop's French CPV consortium should create as many as 800 jobs over the next 3 years.
With a Solfocus system due to go online in Chile within the next few weeks, and with South Africa also emerging as a strong market, the global CPV Industry will be meeting next week on 21-22 March in Madrid to discuss the opportunities and challenges to deploying systems in Chile, China, Morocco, Saudi Arabia, and the UAE.
The confirmed list of participants is now online, including key authorities from these regions and other global CPV stakeholders. Visit the event website below to see the full attendee list: http://www.pv-insider.com/cpv-international/attendees.php