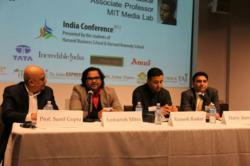 Indian educators can teach U.S. based K-12 students, but they will have to receive the proper training and educational development to align them with the U.S. common core
New York, NY (PRWEB) March 14, 2013
This year's business conference held on March 9th & 10th 2013 at Harvard University was a unique one in that it afforded the opportunity for iTutor.com's founder to speak on the panel about the development of India's Silicon Valley. Each year Harvard hosts a conference regarding the development of the world's largest secular democracy, India.
India vs. India Local Strength vs. Global Growth is a conference dedicated to "encouraging complexity and controversy" as stated on the conferences website, in regards to real issues surrounding such a globally competitive country. Mr. Aurora was responsible for bringing light to the development of India's Silicon Valley using his experience of developing iTutor's online tutoring platform and all of the obstacles that came with it. In this panel leaders discussed India's graduation from remote based tech services to forge opportunities of capturing a piece of the increasingly dependent global market share of software and other tech services.
Mr. Aurora focused his ideas on the entrepreneurial spirit, angel, and venture capitalist sectors of India that are aligned to take advantage of these opportunities. "India is well known for adapting to the global market" said Aurora during one of his argumentative statements. India is globally known for its remote tech support but can the country adapt to the software end of things with limited resources required for day to day operations & overabundant bureaucratic obstacles plaguing the business sector.
Mr. Aurora sees the global demand close to home at iTutor every day, as hundreds of outsourced educators apply for online tutoring jobs to teach iTutor's U.S. based students. "We don't currently outsource our educators because of the vigorous common core standards that the U.S. is implementing nationwide this year. He states in his closing argument, "I am not ruling out the fact that Indian educators will teach iTutor's U.S. based K-12 students, because they will... But they will need the proper training and educational development to align with the U.S. common core, before doing so".
Headquartered in New York, iTutor Inc. is a team of highly seasoned professionals who with over a decade of experience have created the premiere online tutoring platform. iTutor's programs unlock & optimize the learning potential of students from all over the world. The company provides the most effective tools designed for online tutoring and distance learning, to help students of all ages and education levels achieve their educational goals.