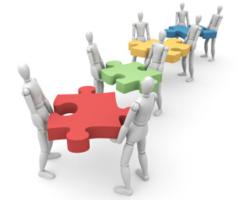 Southlake, TX (PRWEB) March 14, 2013
The Gardner Institute's business building course and mindset marketing course, Partners in Success, is presenting a class on the importance of Partnering and Strategic Alliances in building a coaching business. The purpose of the course is to provide information to help the new coaches maximize the success of their coaching business.
MiMi Heines will be our guest speaker on this topic. She will share with us how she has partnered and created strategic alliances to create a successful coaching business. MiMi will discuss what partnering with other people has done for her and how it has helped her grow her coaching business, Self-Equity Coaching. She will talk about the many benefits, give examples of partnering and give an opportunity for the group to share ideas. She will also discuss the difference between general and specific alliances and provide examples.
Relationships can be defined as the way in which two or more concepts, objects or people are connected. The art of building long-lasting relationships is essential to growing your business and flourishing in the coaching industry. Successful people have the ability to develop relationships that are effective, beneficial and endure over time. Given the current economic climate, establishing and maintaining relationships has never been more imperative. Building strategic alliances and partnerships is an important aspect of keeping your business relevant and enabling you to grow as an individual and an organization. The art of developing and maintaining relationships comes more easily to some people than others. However, with a strategic plan, a little practice and determined follow-up, anyone can become an effective networker.
To conclude, MiMi will talk about the action steps required and what might be holding them back from pursuing building these essential relationships. In today's challenging market, it is imperative to build successful relationships and interact with people in a positive way to attain organizational goals. Building relationships is such a vital aspect of a business, so vital, there are divisions within your company where their sole task is to bring in business. Remember, respect and trust are the glue that holds together functioning teams, partnerships and managing relationships. Through hard work and persistence, one can really make a difference in establishing an effective relationship that is mutually beneficial to both sides.
After over 30 years of hiring, training, mentoring and directing Leadership Development programs in the dental and pharmaceutical industries, MiMi has brought that base of experience to Life Coaching. A graduate of the University of Minnesota, and then CMR in Pharmaceutical Management, MiMi has trained with the Gardner Institute and is an ICF ACC, and certified to use the Mindset for Success coaching model. She is also on the Board of the International Coach Federation (ICF) – North Texas Chapter.
About The Gardner Institute:
The Gardner Institute is a Coach Training Institute based in Southlake, Texas. Founded in 1995, the Gardner Institute trains and maintains a cadre of coaches trained in coaching fundamentals and their proprietary coaching program, Mindset for Success. For additional information please contact The Gardner Institute.