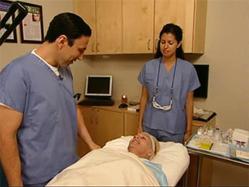 Los Angeles, California (PRWEB) March 13, 2013
According to a March 7, 2013 report published by Allure Magazine, a newly developed device called Vanquish may become a viable fat reduction alternative to traditional surgical liposuction. The device, which is entirely non-invasive, relies on deep-tissue heating to target and reduce fat. (Go to: goo.gl/qL1iI)
"The information we have so far is only preliminary," says Dr. Simon Ourian, Medical Director of Epione Beverly Hills. "There are a several fat-busting technologies on the market right now including ultrasound and cryotherapy and each has its disadvantages. We still need to see data on long-term results and long-term drawbacks with this procedure."
The Vanquish is reported to use focused-field radio frequency to heat up the skin of treated areas to 101 degrees for 30 minutes at a time. The manufacturer claims that test subjects have reported no pain during their procedures. Pain is an issue with other fat dissolving treatments such as ultrasound and chemical injections.
According to the study conducted by the manufacturer, all those treated had visible results after the initial treatment. For those completing the full four session course of treatment, there was an average two-inch waist size reduction. The thinking is that these results will be permanent, as the device destroys the fat cells themselves and not just the fat found inside the cells. To date, the manufacturer has not received any indication that the treatment causes damage to the hair follicles, internal organs, the top and middle layers of skin or muscles.
"Painless, effective fat reduction is the one of the Holy Grails of aesthetic medicine," concludes Dr. Ourian. "If this device can deliver on this promise, I expect it will enjoy a very successful future."
Dr. Ourian has been a pioneer in laser technology and non-invasive aesthetic procedures including Restylane, Juvéderm, Radiesse and Sculptra. These treatments are used for the correction or reversal of a variety of conditions such as acne, acne scars, skin discoloration, wrinkles, stretch marks, varicose veins, cellulite, and others. More information about non-surgical liposuction can be found on Epione's website.