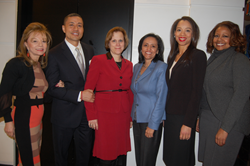 Judith Harrison, Constituency Management Group, "Women's advancement in the workplace is linked not only to leaning in, but to reaching out to form connections with sponsors and supporters who can help create career traction."
New York, NY (PRWEB) March 14, 2013
Barbara Frankel, Senior Vice President, Executive Editor, DiversityInc moderated an interactive and thought provoking discussion on what women and people of color need to know to be successful. Panelist included: Sylvia Ann Hewlett, President and CEO, Center for Talent Innovation; Craig Robinson, EVP, Chief Diversity Officer, NBCUniversal; Judith Harrison, SVP, Staffing, Diversity and Inclusion at Constituency Management Group; and Maria Castañón Moats, Chief Diversity Officer, PricewaterhouseCoopers.
Sylvia Ann Hewlett (@SAHewlett) presented Center for Talent Innovation research that showed women and multicultural employees experience stalled progress within the "marzipan" layer due a lack of sponsors and champions to propel and protect them. Hewlett defined a sponsor as a senior leader who, at a minimum, goes out on a limb on your behalf, advocates for your next promotion and provides air cover. A sponsor is distinctly different than a mentor and has a reciprocal relationship with a protégé. Hewlett explained that protégés earn sponsorship through exceptional performance, trustworthiness, loyalty and contributing a distinctive personal brand.
Judith Harrison gave an informative presentation on the critical requirements for success. Harrison shared game changing tips to be "sponsorable": demonstrate emotional intelligence, deliver consistent performance and relationship management excellence, be the first in your organization to develop an area of expertise, show business and financial acumen, show executive presence and don't let the "good-girl syndrome" get in the way of getting things done. Harrison said, "Women's advancement in the workplace is linked not only to leaning in, but to reaching out to form connections with sponsors and supporters who can help create career traction. Organizations need to encourage women to aspire to leadership and help lay the foundation for their success."
Maria Castañón Moats is one of fifteen on PwC's U.S. Leadership team and reports directly to the Senior Partner. In 2012, the firm was recognized as DiversityInc magazine's #1 company for diversity and inclusion as well as the #1 company for executive women. Maria discussed how PwC holistically incorporates sponsorship programs within their organization as a leadership imperative. Moats said, "PwC's inclusive culture welcomes people from all walks of life. I'm proud of our commitment to diversity, but I'm even more inspired by our people. Relationships make all the difference when it comes to advancement. Through active sponsorship, we're shaping the careers of diverse professionals and the next generation of leaders."
Craig Robinson reports directly to NBCUniversal CEO Steve Burke and serves as a member of the Comcast and NBCUniversal's Joint Diversity Council. Robinson stressed the need to maintain integrity, be bullet proof within your performance, and be mindful that the people closest to you can also become advocates. Robinson shared a 360 degree approach to relationship management.
Felicia A. Carty, Principal, Carty Consulting and a NYWICI member organized the panel and gave opening remarks. Carty said "I developed a panel based on Sylvia Ann Hewlett's research with industry executives sharing insights to provide the 'need to know' information that will help people advance within their career and bounce back. NYWICI is a great forum to bring your ideas to and connect with women who empower women to succeed."
Event Partners Included:
The 4As, The Advertising Club of New York, Alliance For Women In Media, The Women's Media Center, The National Association for Multi-Ethnicity in Communications (NAMIC), The Black Public Relations Society New York Chapter, Leadership Education for Asian Pacifics, Inc. (LEAP), DiversityInc, The Center for Talent Innovation, NBCUniversal, Interpublic Group, PricewaterhouseCoopers, and Carty Consulting.
About Carty Consulting:
Carty Consulting provides public relations, business development, and digital media services. Carty Consulting is led by Felicia A. Carty, an advertising and digital media veteran. Carty is a member of the International Association of Business Communicators New York Chapter Board of Governors. @feliciacarty
About New York Women in Communications:
New York Women in Communications, founded in 1929, is a not-for-profit organization of more than 2,000 communications professionals dedicated to promoting the highest standards throughout the industry and to providing education and leadership for the next generation. The membership encompasses senior executives and other experienced communicators from a wide range of enterprises, as well as young professionals and students. New York Women in Communications empowers women in all communications disciplines to reach their full potential by promoting their professional growth and inspiring them to achieve and share their successes. For more information, please visit http://www.nywici.org.
###