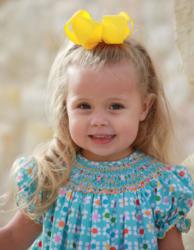 Want to thank This and That for Kids for having awesome customer service. I have been very pleased with the quick responses and nice associates that have assisted me in making an easy transaction with them. - Nikki Miller Ivey (Facebook fan)
Miami, FL (PRWEB) March 19, 2013
Miami-based Hand Smocked Children's Boutique This and That for Kids has found the importance in social networking which has brought their business to new heights.
"We were having a hard time driving traffic to our website when I realized that Facebook ads were the way to go," says Dunia Debk, owner of This and That for Kids. "Once our fan count started growing I realized that the best way to get their attention was directly through the social network."
That is when Debk began promoting sales and special offers on her Facebook wall which aided in growing the fan count and driving sales. For the past three months This and That for kids has been promoting their Spring collection which has caught the attention of many. The beautiful Hand Smocked Easter Outfits have been flying off the racks!
This and That for Kids tries to stay ahead of the competition by focusing on incredibly fast shipping. This may seem like an obvious company objective but some companies can take up to three weeks to ship out custom monogrammed outfits. This and That for Kids will never take that long. An order from This and That for Kids takes about a day to ship and only about three days if it is a custom monogrammed outfit. This quick shipping method ensures that customers can still order easter outfits and receive them in time for Easter!
Having several social media outlets, such as Facebook and twitter, allows customers to ask any questions they have in a way that is most convenient for them. There is always someone checking the inboxes of each site to make sure all questions are answered right away which is crucial for customers who have questions about holiday outfits.
The positive feedback and the expectation of quick shipping and great customer service gives the company something to live up to. The loyalty of the fans gives This and That for Kids a reason to keep doing what they are doing. With the support of their fans they will be releasing their summer collection in two weeks! Featuring whales, dolphins, sea shells, and more nautical themes!
"I love the interaction that I get to have with all of my customers through Facebook," says Debk. "Not only has it helped my company grow but it has given me a chance to really get to know my customers and see the people who have fallen in love with the company that I have worked so hard for."
Check out their Facebook fan page where you can enter contests, be the first to see new hand smocked styles and sales, and sign up for weekly e-mails with coupons and sale updates. They are quickly approaching 100,000 fans and will be hosting a huge giveaway when they reach their goal!