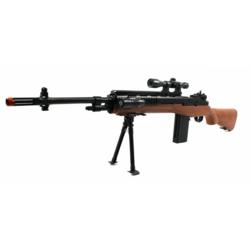 With our products, our customers will be spending less time maintaining their weapons and more time on the battlefield
Los Angeles, CA (PRWEB) March 15, 2013
Trusted airsoft and RC toys hobby shop AirsoftRC.com is currently one of the most reliable sources of airsoft rifles.
The widely known provider of Airsoft Guns and gear has extended their impressive collection of the top airsoft rifles , thus further establishing its reputation as the number one online resource for airsoft hobbyists.
AirsoftRC carries all the popular rifle styles, such as XM8, G36, M14, M16, and AK, among many others, as well as more specialized models such as P90, SCAR, UZI, S552, M249, and SMG, to name some. The airsoft rifle collection caters to both the beginners and the long-time enthusiasts by offering products in a wide range of prices, from starter rifles to higher end options. Enthusiasts who have specific brands in mind can also choose from AirsoftRC's collection of rifles from the top manufacturers of airsoft weaponry including CYMA, JG, G&G, Double Eagle, and many more. The rifles also come in gas, spring, and electric configurations to allow consumers to choose the weapon that best suits their needs.
"Our updated collection of airsoft rifles contain some of the best gear we've had the privilege of offering to our customers," says an AirsoftRC spokesperson.
By putting together all rifles in one category, the shop also makes purchasing their new gear easier for hobbyists who are specifically looking for rifles. To cater to different needs, however, the company also has separate categories for other types of airsoft guns such as pistols, shotguns, and sniper rifles.
AirsoftRC's enhanced airsoft rifle collection is part of the company's objective to become the number one premier source for airsoft and RC online. "Our goal is to continuously provide our customers with high quality and durable airsoft guns and RC toys that give them the best value for their money."
"With our products, our customers will be spending less time maintaining their weapons and more time on the battlefield."
The new updates in AirsoftRC's extensive array of airsoft guns and accessories are all consistently geared towards helping enthusiasts get the best gaming experience they can have. In line with this goal, the company also maintains an impressive collection of airsoft accessories such as BBs, tactical gear, lasers, scopes, batteries, gas or CO2 cartridges, targets, bipods, and so many more.
AirsoftRC also regularly brings new products into their collection. All newly added products can be easily accessed through the New Arrivals page.
"We also have hot deals from time to time, as well as weekly specials. This is our way of giving back to our loyal gamers."
Those looking for airsoft rifles and other gear and accessories may visit http://www.AirsoftRC.com or may contact the store's customer support hotline at (626) 263-0693. The hotline is available to answer any customer queries from 10:00 AM to 5:00 on weekdays.
AirsoftRC.com also has a huge collection of RC toys. Their RC helicopters, cars, tanks, airplanes, and trucks are also bestsellers among RC enthusiasts and collectors.