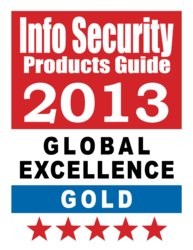 Livonia, Michigan (PRWEB) March 15, 2013
Attendance on Demand is pleased to announce that its thought-leader white paper on employee misclassifications received the top honor, a Gold Award, at Information Security Product Guide's 2013 Global Excellence Award Gala on February 27 in San Francisco, The deployment of its cloud-based employee time and attendance service at YWCA of Central Carolinas received a Bronze Award, as did a second white paper on managing internships.
Now in their ninth year, the prestigious Global Excellence Awards recognize advanced, ground-breaking products and solutions that are raising the bar in all areas of technology.
Attendance on Demand's Gold Award-winning white paper, "Avoiding Misclassification Mishaps: How Employees Can Protect Themselves from Employee Misclassification" and the Bronze award-winning paper, "Managing Internships: Paid and Unpaid" were acknowledged for their rich content. The reports were applauded for their success in educating business owners, HR and legal staff on issues that affect the ability to effectively track, schedule and report workforce time and attendance.
The YWCA of Central Carolinas' deployment of Attendance on Demand received a Bronze Award recognizing the benefits that the organization has experienced with the employee time and attendance service. For example, the non-profit has trimmed its costs 35 percent and cut its time and attendance processing time in half since launching the service.
"We are humbled that Attendance on Demand received a gold award and two bronze awards in this global program," said Attendance on Demand President Chris Ciapala. "This is the second consecutive year we've received Global Excellence awards that recognize the success of our efforts to meet the time and attendance management needs of today's businesses."
For the complete list of Global Excellence Award winners, see the award website.
About Attendance on Demand, Inc.
Attendance on Demand employee time and attendance service supports the labor management needs of thousands of companies over a quarter million employees across North America. Launched in 2006, Attendance on Demand is a rapidly deployed, cloud-based solution that minimizes a company's risk and technology investment while providing advanced features for securely managing labor data-- calculating pay rules, scheduling employees, budgeting labor, and automating record keeping for labor law compliance. With standard uptime over the industry average of 99.995% and above average customer retention rates Attendance on Demand removes the worry of maintaining expensive infrastructure. An extensive North American distribution network helps organizations use Attendance on Demand to reduce labor expenses and improve decision-making.
http://www.attendanceondemand.com 1-800-465-9980