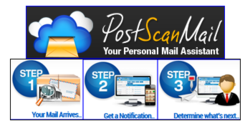 (PRWEB) March 25, 2013
PostScan Mail offers clients an innovative way to deal with postal mail, quickly and efficiently, while reducing paper waste. PostScan Mail revolutionizes the postal experience for the modern world, and helps clients focus more time on their work and less time checking and sorting through mail. Today, we are inundated with junk mail and unnecessary material. PostScan Mail allows clients to quickly go through this mail, online, and digitally receive only the post mail they want.
The process is simple. Once a client signs up with PostScan Mail, they receive a unique mailing address for mail to be delivered to the PostScan Mail facility. Once a letter arrives, the client is notified and receives a digital image of the letter. The client then has the option to open and scan the letter, recycle it, shred it or forward it to another address. If the client decides to keep and read the piece of mail, they will receive a full digital scan of the document they can keep in their computer files.
In addition to digital mail processing, PostScan Mail also offers many additional features not available at the post office. These include online mail management, mail forwarding and mail archiving – both digital and paper, for up to 30 days. PostScan Mail also allows clients to filter their mail and sort it into various categories, digitally, and request automated operations for individual categories. A check deposit service is also coming soon.
PostScan Mail gives clients complete control over their mail deliveries. PostScan Mail allows clients to manage their mail remotely, from any location, even when traveling. The PostScan Mail system is completely secure and is an excellent way to protect oneself from mail or identity fraud. This process is also much more convenient and efficient than a PO Box. Instead of going to the post office every day, clients receive their postal mail directly, online.
For additional information about the features offered by PostScan Mail, visit http://www.postscanmail.com/, or call 1(800) MAIL-866.
About PostScan Mail:
PostScan Mail offers easy and efficient solutions for individuals and businesses who want to manage their postal mail online. PostScan Mail saves both time and money, because they scan your postal mail for you and then alert you to its arrival, you no longer need to constantly monitor your mail deliveries. PostScan Mail will send images of all mail items directly to you. All of the services are safe and secure -- and designed with the customer in mind.