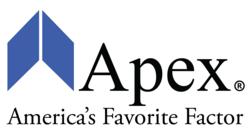 Fort Worth, TX (PRWEB) March 18, 2013
Apex Capital is attending the Mid-America Trucking Show (MATS) in Louisville, KY at the Kentucky Expo Center on March 21-23, 2013. Apex, a leading provider of freight factoring services, has exhibited at MATS for the past 4 years. Apex utilizes MATS as an opportunity to improve understanding of industry needs by meeting with clients, advising prospects and connecting with other trade professionals.
Apex will be located in the West wing at booth #65189 and will have multiple giveaways including a daily drawing for a BlueParrott Bluetooth Headset and free prescription discount cards. Clients, prospective clients and industry professionals are invited to the Apex booth to discuss factoring services and Apex's exclusive fuel program.
Held each year in Louisville, KY, the Mid-America Trucking Show is the largest heavy-duty trucking event in the world. Owner operators, for-hire trucking companies, company drivers, private fleets and other industry professionals attend MATS to network and explore resources to provide their businesses with a competitive edge. Apex is eager to attend MATS to market new products and services, increase brand awareness and connect with suppliers, customers, and prospects.
###
ABOUT APEX CAPITAL
Founded in 1995, Apex Capital provides more than just cash flow for clients. Apex provides honest and innovative full service freight bill factoring, a competitive fuel discount program and total management of accounts receivable. An advocate for carriers, Apex is active with the Alliance for Safe, Efficient and Competitive Truck Transportation (ASECTT), the International Factoring Association (IFA) and the Owner Operator Independent Drivers Association (OOIDA). Apex's corporate citizenship commitment involves extensive fundraising and classroom participation with Junior Achievement of the Chisholm Trail, Inc. and sponsorship of multiple community service projects each year. Apex is a privately held company based in Fort Worth, Texas and has been voted one of the best companies to work for in Texas for the last 6 years. For more information call 800.511.6022 or visit http://www.apexcapitalcorp.com.