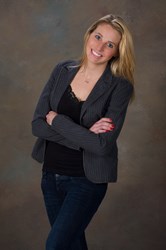 "People and businesses who need to raise money through crowdfunding don't care if the person running the site wears a tie or slips on Louboutin pumps every day,"
Tampa, FL (PRWEB) March 15, 2013
The funding craze that's sweeping the globe is receiving a complementary makeover thanks to the originative genius of Tess Hottenroth, COO of ClickStartMe, the newest addition to the crowdfunding scene. ClickStartMe is the first crowdfunding site to offer individuals and businesses everything they need to realize their dreams, including a platform to attract supporters and raise funds, an e-commerce storefront, social media tools, expert guidance, and the added bonus of site-sponsored contests offering amazing perks and prizes.
Crowdfunding exploded across the Internet in 2009 as the latest and greatest way to generate support for funding-worthy projects, but the industry was fragmented and none of the emerging platforms offered would-be fundraisers a clear and comprehensive blueprint for success. When Hottenroth recognized the need for a fundamental change in the crowdfunding concept, she knew she had to revolutionize the industry by establishing her own innovative site. She now stands out as one of only a handful of women entrepreneurs in the male-dominated tech sector. According to the New York Times, women account for only 6 percent of the chief executives of the top 100 tech companies, and only 8 percent of venture-backed technology start-ups.
While Hottenroth takes on the challenge of being a groundbreaker with aplomb, she doesn't see gender as an issue that will make or break a deal for crowdfunders. "People and businesses who need to raise money through crowdfunding don't care if the person running the site wears a tie or slips on Louboutin pumps every day," Hottenroth says. "People want a user-friendly experience that works and is fun, and we give that to them with ClickStartMe."
Hottenroth does believe that being a female entrepreneur gives her certain advantages over her male counterparts in the crowdfunding world. Her creative flair and her intuitive sense of public perception led her to design ClickStartMe in a way that makes the process of crowdfunding uncomplicated and user-friendly.
"And let's not forget fun," Hottenroth says. "While crowdfunding a project you're passionate about is serious business, we all want to have some fun in our lives, and ClickStartMe definitely puts the fun in crowdfunding."
To inject a healthy dose of fun into her cutting-edge startup, Hottenroth took her cue from the public's fascination with televised reality and talent contest shows like The Voice, America's Next Top Model and Shark Tank and added contests for anyone who creates a ClickStartMe project. Each contest offers cash prizes, trips to fun locations and other valuable rewards for participating.
"Our Spokesmodel contest winner gets $5000. We are flying 10 models to Las Vegas for a finale on stage at the hottest club in the country," Hottenroth said. "In our invention and product category, the contest winner gets a national distribution deal for their product and a television commercial produced for them. The perks make it fun for users and give them the opportunity to make their product widely visible, but they also add to the experience for donors – instead of just being funders, they become active supporters cheering on their contestant."
The twenty-nine year-old entrepreneur has always had a passion for helping others, which in her early years pointed her toward a career in medicine. Although she was accepted to medical school at Columbia University's international program, she choose the business world instead. "Ultimately I realized that as much as I enjoyed the operating room, I wasn't suited to spend my life confined to it. I wanted unpredictable experiences and to be constantly learning something new," Hottenroth said. "Today, I can't imagine myself as Dr. Hottenroth doing hip replacements all day instead of meeting with people, vetting ideas, writing code, designing graphics and running financials."
After graduating from college with degrees in kinesiology and Spanish, she spent two years in Nigeria, volunteering in hospitals while doing post-graduate studies in Global Public Health. After her acceptance to medical school, she returned to the United States to fulfill her goal of becoming an orthopedic surgeon. But a few weeks before the first semester started, Hottenroth realized that her true calling lay elsewhere. After dabbling in the stock market and learning about mergers and acquisitions, she embarked on a journey "Down Under" in Australia, and emerged from the year-long adventure as a published author.
It was after she returned to America and took the helm of a Florida media firm that crowdfunding first caught Hottenroth's attention. "Most of our media clients were small businesses, and as the economy continued to plummet, it was disheartening to see phenomenal ideas that were going nowhere because of the bad economy, and dreams that weren't taking flight because traditional funding sources had dried up," Hottenroth says. The 2012 JOBS Act put equity crowdfunding on her radar as an alternative for small business, and she began to view the concept as the potential antidote for a multitude of financing woes.
Before embarking on her personal crusade to radically change the face of crowdfunding, Hottenroth took a long look at the choices that existed and "what existing platforms should do and weren't doing." She solidified her stance that crowdfunding shouldn't focus solely on artists or musicians, and that anyone with a dream and a creative idea should be able to leverage the model to generate support and financial backing. She also felt that the ideal crowdfunding site should foster a personal and hands-on experience, and be much more than just a funding platform. "It should be a site that reminded people that there was an American Dream once upon a time, and inspire them to reconsider how it could be accomplished," she said.
The crowdfunding platform Hottenroth envisioned wouldn't kick people off once a funding goal was reached – it would encourage them to network, stay in touch with supporters and contribute to other projects. People would be able to sell the products they developed, the art they created, or the music they produced through an on-site store. They would also have easy access to key resources like accountants, patent lawyers, manufacturers and marketing experts to help them along their road to success.
Hottenroth saw her entrepreneurial vision come to life with the launch of ClickStartMe, and because of her renegade spirit and passion, it is poised to take crowdfunding to unprecedented heights. Her goal of helping others is alive and well too, and she's relishing her role as "an advocate and a mentor" for everyone who wants to make their own American Dream a reality.
For more information about ClickStartMe or to schedule an interview with Tess Hottenroth, e-mail media(at)clickstartme(dot)com or call 813.410.4658.