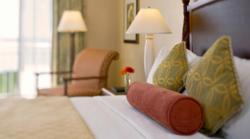 These enhancements are the first step in our journey to evolve the guest experience, starting with listening to our guests in a more meaningful way.
Bonita Springs, FL (PRWEB) March 15, 2013
Guest request communication cards, a service providing frequently forgotten items and healthy, balanced menu offerings are a sampling of the new features available at Hyatt Regency Coconut Point Resort and Spa as a result of its effort to listen more to guests' needs and to provide an experience tailored to their individual preferences.
Each of the new enhancements offered at Hyatt Regency Coconut Point are based on insights from female travelers collected as part of the most extensive guest listening exercise in Hyatt's history. The launch of these new amenities and services marks the first milestone in Hyatt's evolution of hospitality, which includes changing the conversation with hotel guests, unleashing a spirit of innovation and perfecting new concepts through rigorous research and in-hotel testing.
Listening to Female Travelers
Hyatt began its efforts to evolve the guest experience with an intensive 18-month effort that included more than 40 facilitated group discussions around the world. Because women are such a critical segment of travelers, Hyatt focused its efforts on creating solutions to the issues that many women face while traveling. While each feature was driven by insights from women travelers, Hyatt believes all guests can appreciate these new enhancements.
"We have been conducting guest surveys for many years, but this new extensive research and our new way of listening to guests is leading to more impactful findings," said General Manager Joe Murgalo. "These enhancements are the first step in our journey to evolve the guest experience, starting with listening to our guests in a more meaningful way. Our associates are very excited and proud to be a part of this important movement."
The research conducted by Hyatt showed that women want:

Assurances that their guest rooms have been cleaned and an ongoing dialogue with the hotel to provide feedback. All guests will now find communications cards that allow housekeepers to provide personal confirmation of a thoroughly cleaned room and to open the door to two-way communication, encouraging guests to share additional needs during their stay.
To maintain momentum on the road and that they often do not want to ask for things. All business travelers forget things. Women, however, are often much more reluctant than men to seek assistance when they do, which can make something simple such as leaving a cell phone charger at home much more disruptive for female travelers. Hyatt Regency Coconut Point is introducing Hyatt Has It, a service for all guests that will offer essentials such as a phone charger, curling iron, steamer, yoga mat, makeup remover wipes and razor to keep, borrow or buy.
To maintain their health and well-being on the road. All guests will find new menu offerings that include fresh juices and smoothies, balanced portions and create-your-own options, all of which are grounded in Hyatt's industry-leading food and beverage philosophy, Food. Thoughtfully Sourced. Carefully Served.
Bath products that are of high quality. In response, Hyatt Regency Coconut Point will now be offering KENETMD Skin Care at the hotel's Stillwater Spa and in guestrooms to ensure that guests can maintain their well-being on the road.
For more information on new amenities and services at Hyatt Regency Coconut Point and to learn more about Hyatt's new guest listening approach, visit http://www.hyatt.com/experience.
About Hyatt Regency Coconut Point Resort & Spa
Named among Travel + Leisure's 100 World's Best Hotels, the AAA Four Diamond Hyatt Regency Coconut Point Resort & Spa features world-class golf, a 19,000-square-foot spa, the AAA Four Diamond-rated Tanglewood restaurant and an extravagant series of water features, including multiple pools ranging from 2,700 to 5,000 square feet and a 140-foot corkscrew slide. The 454-room resort, which recently received Florida Green Lodging's Three Palm eco-friendly certification, is the ideal base camp between Naples and Ft. Myers. Located on 26 acres overlooking the breathtaking Estero Bay Aquatic Preserve, the resort offers convenient access to both destinations as well as a private island beach for a more secluded retreat. A 15-minute water taxi ride takes guests to the resort's private beach on Big Hickory Island. White, soft sand and the brilliantly colored Gulf of Mexico create a restful spot with plenty of open chairs and umbrellas for those looking to relax.
For those guests seeking a more active vacation, the island is a great spot to hunt for sharks' teeth, collect more than 400 types of seashells, build old-fashioned sand castles or kayak along the beautiful shoreline. Back at the resort, guests can relax and rejuvenate with pampering treatments at the Stillwater Spa and enjoy a delectable meal at the Tarpon Bay restaurant, featuring fresh, innovative seafood for a truly memorable meal. For information or reservations visit http://www.hyattregencycoconutpoint.com or call 239-444-1234.
# # #